Point Park Volleyball Weekly Notes (Aug. 27) – Lindsey Wilson Classic up next
Aug. 27, 2015 at 3:30 p.m. ET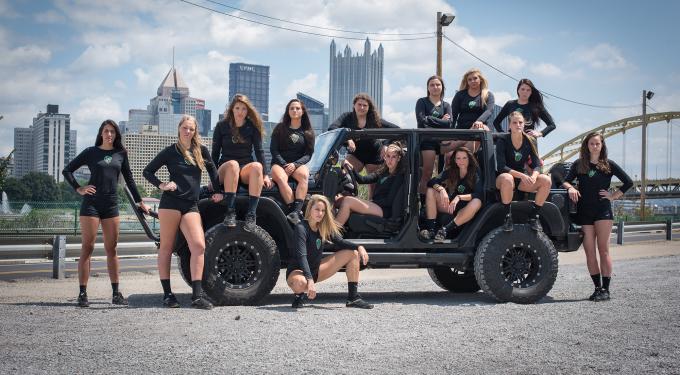 DOWNLOAD: 2015 QUICK FACTS, ROSTER, SCHEDULE, STATS
AT A GLANCE
PITTSBURGH – This week for Point Park University volleyball (0-4, 0-0 KIAC) includes the Lindsey (Ky.) Classic Aug. 27-29 in Columbia, Ky. The event features 16 teams playing over three days, and Point Park will be there for the first two days of Aug. 27-28. This edition of the Weekly Notes takes a look at the upcoming event and a look back at last weekend's performance.
LINDSEY WILSON (Ky.) CLASSIC AUG. 27-29:
Point Park begins play at the Lindsey Wilson Classic versus Indiana Tech (0-4) on Thursday at 6 p.m. CT. Next is a matchup with host Lindsey Wilson (3-1), which is ranked No. 7 in the NAIA, at 8 p.m. CT. On Friday, Point Park faces St. Catharine (3-3) at 9:30 a.m. CT and Grace (Ind.) (4-0) at 1:30 p.m. CT. Lindsey Wilson is highly ranked in the Top 10 of the NAIA, and St. Catharine joins Point Park as a team 'receiving votes' in the NAIA. Grace is unbeaten and already has a win over the Pioneers.
LIVE COVERAGE @ LINDSEY WILSON
Live Stats will be available for all matches of the Lindsey Wilson (Ky.) Classic. Live Video will be available for matches involving host Lindsey Wilson, meaning Point Park's matchup with the Blue Raiders on Friday at 8 p.m. CT will be streamed live.
Thursday         vs. Indiana Tech                       6 p.m. CT                Live Stats
Thursday         vs. #7 Lindsey Wilson               8 p.m. CT                Live Stats, Live Video 
Friday              vs. (RV) St. Catharine (Ky.)       9:30 a.m. CT           Live Stats
Friday              vs. Grace (Ind.)                        1:30 p.m. CT           Live Stats
LAST WEEK at GRACE (Ind.) CLASSIC
Point Park went 0-4 to open the season last weekend at the Grace (Ind.) Classic. The Pioneers battled hard but lost many close sets in coming out winless for the event. Point Park took losses to Trinity Christian (Ill.), IU Kokomo and Grace (Ind.) by a 3-0 score and lost to St. Ambrose, 3-2, after being up 2-0 in the match.
TOP PERFORMERS LAST WEEKEND
Senior middle hitter Cristiane Chaves (Recife, Brazil/Indian Hills CC) posted a team-high 27 kills in the four matches last weekend, which included two matches of 10 kills each. Senior outside hitter Isabella Vavrek (Aliquippa, Pa./Hopewell HS) is next in kills with 26 kills and is tied for the team lead with 41 digs, an honor she shares with junior outside hitter Shiloh Simonson (Venetia, Pa./Peters Twp. HS). Simonson has 19 kills. Emily Meng has the team lead in assists with 51 for an average of (3.64) per set.
ON THE BLOCK
The Pioneers scored a fair share of their points last weekend on the block, and it was Nikki Inquartano leading the way with 17 blocks and Chaves next with 10 blocks to do most of the damage up front. Point Park collected 23.0 total team blocks on the weekend.
PRESEASON POLLS
Point Park has been picked as the conference favorite in the KIAC Preseason Coaches' Poll (Aug. 14) with 127 points and 7 of 11 first-place votes. Point Park edges Asbury (Ky.) (122 points) and IU Kokomo (114 points) for top honors in that rating. The Pioneers are also in the "others receiving votes" section of the NAIA Volleyball Coaches' Preseason Top 25 Poll (Aug. 18) and check in at No. 29 overall in the country.
2014 YEAR IN REVIEW
The Pioneers won the KIAC Tournament championship to qualify for the NAIA national tournament. Point Park ended the year with a 27-16 overall record and an 8-2 KIAC mark. The Pioneers fell to No. 15 Georgetown (Ky.) in the NAIA National Championship Opening Round in what was their second trip to nationals in a four-year span.
NEW YEAR, SAME GOALS
Point Park begins the 2015 season with its sights once again set on competing for a KIAC championship and making a mark in NAIA volleyball. The Pioneers have 4 of 6 starters returning from last year including NAIA-AVCA All-Northeast Region outside hitter Shiloh Simonson and All-KIAC setter Emily Meng, a transfer last year from Wright State.
HEAD COACH MIKE BRUNO
Mike Bruno is in his 11th year as Point Park head coach. In the last 10 seasons, he has led Point Park to 247 wins for an impressive average of 24.7 wins per year. Bruno is 247-143 (.633) at Point Park. His career record of 363-201 (.643) includes a 116-58 record in five years at Waynesburg (Pa.). The 363 career wins put him in 17th place among active NAIA volleyball head coaches. Coach Bruno has been named a conference Coach of the Year in five of his previous 16 years as a head coach.
SIMONSON LEADS THE WAY
Point Park's top player is once again Shiloh Simonson, a 5-9 junior outside hitter from Venetia, Pa., and Peters Township High School. She is a six-rotation outside hitter who is back in that role for a third year. Simonson is coming off a strong sophomore season of 399 kills, 424 digs, 68 aces and 38.0 blocks. That earned her All-KIAC First Team and NAIA-AVCA All-Northeast Region accolades.
OTHER TOP RETURNERS
Emily Meng is back for her second year as setter after transferring from the NCAA Division I level and Wright State last season. She led Point Park's 6-2 offense with 1,187 assists (7.61 per set) and earned all-conference second-team honors. Senior outside hitter Isabella Vavrek (Aliquippa, Pa./Hopewell HS) is ready for a big final year after putting up 94 kills despite missing some time to injury last year.
Other veterans returning are 6-3 senior middle hitter Cristiane Chaves (Recife, Brazil), 6-2 redshirt junior middle hitter Nikki Inquartano (Pittsburgh, Pa./Shaler HS) and senior defensive specialist Paige Baker (Kittanning, Pa./Elderton HS).
TOP NEWCOMERS
Megan Branchick joins the attack a 6-2 right-side hitter after transferring from NCAA Division II Edinboro. The North Olmstead, Ohio, native was All-PSAC West 2nd Team at Edinboro when she amassed 375 kills and 74.0 blocks in 2013.
Madison Weldon is a junior setter who has transferred from two-time junior college national runner-up Parkland (IL) College. The Champaign, Ill., native helped Parkland to its second straight national championship game with 897 assists (5.61 per set) last year and joins Meng in Point Park's 6-2 rotation.
Morgan Dangelo is a 5-2 defensive specialist from Greenwood, Ind. The Mid-States All-Conference performer at Greenwood Community HS had 468 digs in high school and is slated to take over Point Park's libero role.
TOP PLAYERS LOST
The Pioneers must replace All-KIAC libero Tabea Dalliard, who has returned to her native Switzerland to pursue volleyball opportunities. She ranked seventh in the NAIA with 65 aces and 17th in the NAIA with a team-high 722 digs. Middle hitter Roxanne Grundmeier has graduated after totaling 248 kills and a team-high 102 blocks last year. Also lost to graduation was defensive specialist Olivia Fisher, who ranked third on the team with 382 digs.
FOLLOW THE PIONEERS ON SOCIAL MEDIA
Keep up to date on the Pioneers via social media. Follow the Pioneers on Twitter & Instragram @PointParkSports and @PointParkVB. Like the athletic department Facebook page at PointParkAthletics.
QUICK FACTS, ROSTER, SCHEDULE
The @PointParkVB 2015 Quick Facts, Roster and Schedule are available at PointPark.edu/Athletics, your source for information on the Pioneers.