@PointParkVB opens season with two losses at Grace (IN) Classic
Aug. 21, 2015 at 11:30 p.m. ET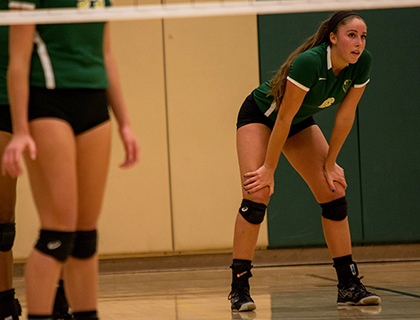 WINONA LAKE, Ind. – Point Park University volleyball had a couple of opportunities slip out of its grasp on Friday, and the Pioneers opened the 2015 season with a pair of losses at the Grace (Ind.) College Classic.
Point Park (0-2) lost to Trinity Christian (Ill.), 3-0, after holding late leads in each of the first two sets. Later, the Pioneers lost to St. Ambrose (Iowa), 3-2, despite taking a 2-0 lead in the match.
The Pioneers continue their opening weekend on Saturday with a matchup versus KIAC opponent IU Kokomo (2-1) at 1:30 p.m. and a meeting with host Grace (Ind.) (2-0) at 4 p.m. Both matches will have live streaming video courtesy of GC.
Point Park could not get much going offensively in the opening loss to Trinity Christian (1-1). The Pioneers lost three close sets by scores of 27-25, 25-22, 25-21. Point Park held leads of 24-23 in the first set and 21-17 in the second.
The Pioneers managed 22 kills as a team. Point Park got most of its points from its nine total blocks and by the 38 combined hitting (27) and service errors (11) from Trinity Christian. Nikki Inquartano led the scoring with five kills and seven blocks.
Point Park came out blistering versus St. Ambrose (2-0) and racked up a .364 hitting percentage in the first set to win, 25-11. The Pioneers stayed hot in taking the second set, 25-21. St. Ambrose nipped the Pioneers in third, 25-23, and put the match away, 25-17, 15-7.
Cristiane Chaves had 10 of Point Park's 34 kills and also led the team with two blocks. Emily Meng collected 19 assists and eight digs. Isabella Vavrek had a team-high 17 digs, and Shiloh Simonson added 13.
For St. Ambrose, Emily Hermiston and Allie Brent provided the difference with 15 and 11 kills, respectively. Kate Nowak racked up 36 assists.
Looking ahead to Saturday's opponents, IU Kokomo beat KIAC member IU East, 3-1, and lost to St. Ambrose, 3-2. Grace is a perfect 2-0 this weekend with a 3-2 win over IU East and a 3-1 win over Trinity Christian.
Follow the Pioneers on Twitter @PointParkSports and @PointParkVB. Like Point Park athletics on Facebook.com/PointParkAthletics. Visit PointPark.edu/Athletics for more.