Point Park tops West Liberty, 3-0, to remain unbeaten at home this year
Sept.24, 2014 at 11:59 p.m. ET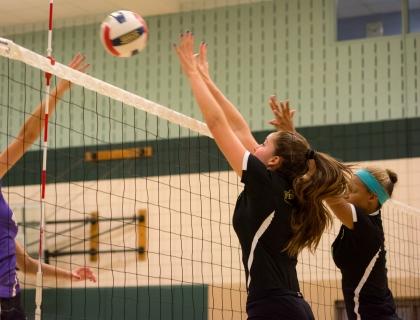 Shiloh Simonson and Roxanne Grundmeier go up for a block earlier this year. Photo by Chris Squier.
By Zachary Weiss, Point Park Athletic Communications Student Assistant

PITTSBURGH, Pa. -- The Point Park University volleyball team defeated West Liberty, 3-0, Wednesday in the Student Center Gym to improve to 7-0 at home and 4-1 versus NCAA Division II opponents this year.

The Pioneers (14-7, 7-0 KIAC) defeated West Liberty (4-9) by scores of 25-20, 25-20, 25-20. Point Park has won 12 of its last 13 matches with the only loss in September being at NCAA Division II No. 6 Wheeling Jesuit Sept. 20.
"It's awesome playing someone you're completely comfortable with," Olivia Fisher said. "The crowds are awesome, especially when we get some good kills in tight games."

In the first set, Point Park had 19 kills and three errors in 36 total swings for a .444 hitting percentage.
The Pioneers trailed, 7-3, in the second set, however, they quickly got the lead and regained momentum. Point Park built at 24-15 lead in the third set and finally finished off the match on its sixth match point.

Point Park had 46 kills, 10 of which came from freshman Ashley Taylor. Taylor had an attack percentage of .450.
Keaton Sausman and Shiloh Simonson chipped in with eight and seven kills, respectively. Setters Emily Meng and Cara Bradley combined for 41 assists with Meng picking up 28. Pioneers had 51 digs led by libero Tabea Dalliard with 23. Point Park also had seven service aces, three of which came from Fisher.

Point Park will not play another match until Thursday Oct. 2 when it travels to face KIAC opponent Indiana University East.

"Breaks in the schedule are a blessing really," said Fisher. "Just getting the time to get more sleep and continue to eat healthy is nice. We also will practice and continue to grow more as a team."