Gabe Bubon - Men's and Women's Golf Head Coach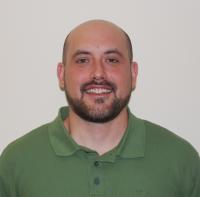 When Point Park reinstated its golf program in June 2009, Gabe Bubon was named the head coach of the Pioneers' men's and women's golf teams.

In addition to taking on his duties as men's and women's golf coach, Bubon will continue his role as the top assistant for the Point Park men's basketball team. The 2015-2016 season will mark Bubon's 11th year as a men's basketball assistant.
Point Park had a brief history of men's golf for five years from 1966-71, and the Pioneers will have a women's golf team for the first time in their history. Bubon, a native of Warren, Ohio, is excited to begin his role with Point Park golf and basketball.
"This is a great opportunity for me, and I look forward to building a golf program that Point Park University can be proud of," said Bubon. "This opportunity allows me to combine my two passions - golf and basketball. I'm excited to restart the golf team and also continue my role as men's basketball assistant coach."
Bubon brings a unique blend of knowledge and experience that allows him to excel in coaching golf and basketball. As a golfer, Bubon is a 4-handicap who plays most of his rounds competing in a scratch league in his native Ohio. He was a four-time letterman at Warren G. Harding High School, where he was the team's No. 1 man as a senior.
Bubon played basketball at Point Park for one year in 1999-2000. That year he led the American Mideast Conference in scoring at 20.1 points per game, a figure that ranked 10th in NAIA Division II. He holds the Point Park single-game scoring record with 45 points at Shawnee State on Feb. 11, 2000. Bubon made 11 3-pointers in that game, which is also record.
Bubon got his start in coaching as a men's basketball student assistant at Point Park from 2003-05 before become an assistant coach in 2005-06.
Bubon was a community director in Point Park's campus life office from 2007-09.