Point Park women's golf places 4th at KIAC Tournament, Collins makes All-KIAC
April 18, 2015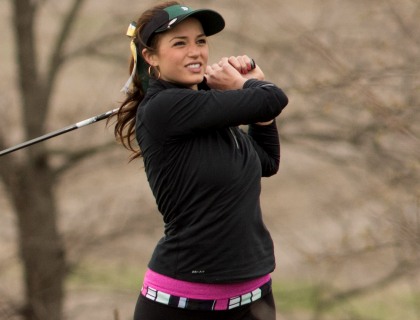 Senior Caroline Collins made the All-KIAC team tied for fifth place at the KIAC Tournament. Photo by Chris Squier.
SANTA CLAUS, Ind. -- The Point Park University women's golf team concluded its 2014-15 season placing fourth at the KIAC Tournament on Thursday and Friday, April 16-17 at Christmas Lake Golf Course in Santa Claus, Ind.
The Pioneers knocked 34 strokes off their first-round team total of 380 to shoot 346 in the final round on Friday. That was the fifth-best round by any team in the tournament, but there was unfortunately too much ground to make up in the standings.
Senior Caroline Collins, a native of West Middlesex, Pa., shot a final-round 82 to tie for fifth place in the individual standings and earn a spot on the All-KIAC team. Collins shot 85 in the first round and was the Pioneers' top performer in the tournament.
Freshman Alena Lancia carded rounds of 90 and 85 to place 12th. Senior Emily Slifka battled illness but rebounded to shoot 86 in the final round and tie for 18th place. Molly Burns (21st), Chloe Callison (23rd), Rilyn Gancia (24th) and Emily Madden (26th) also competed for the Pioneers.
The KIAC Tournament concluded a 2014-15 season that saw the Pioneers place third or better three times in six tournaments. That included a second-place showing at Grove City in the fall.
Follow the Pioneers on Twitter @PointParkSports