Point Park women's golf opens fall season at Denison tournament
Sept. 7, 2015 at 9:00 a.m. ET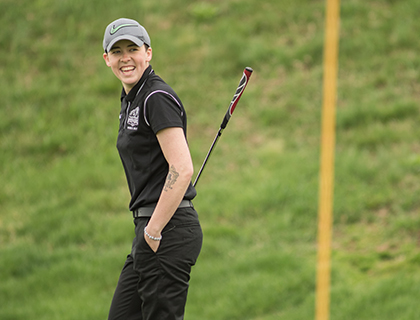 Molly Burns and Point Park women's golf competed at Denison this past weekend. Photo by Chris Squier.
GRANVILLE, Ohio -- The Point Park University women's golf team opened its fall 2015 season this past weekend at the Lynn Schweizer Invitational hosted by Denison University at Denison Golf Club.
The Pioneers came in 12th place in their season debut, which had three freshmen making their first college appearance and also a sophomore in Point Park's five players. The Pioneers shot rounds of 390 and 384 as a team over the two days.
Sophomore Alena Lancia turned in Point Park's best round of the tournament, an 86 in the final round Sunday. She placed in a tie for 43rd place.
Freshman Lindsey Swanson was the top finisher for Point Park with rounds of 93 and 90 to tie for 41st place. Senior Molly Burns (95-99) was next for the Pioneers followed by freshmen Ellie Shaw (107-106) and Allysa Demongone (110-113).
Point Park has four tournaments scheduled for this fall with the next one being Sept. 22 at St. Vincent (Champion Lakes GC, Bolivar, Pa.), Sept. 27-28 at Allegheny (Country Club at Meadville, Pa.) and Oct. 2-3 at the KIAC Fall Preview (Cherry Blossom GC, Georgetown, Ky.).
Follow the Pioneers on Twitter & Instagram @PointParkSports hashtag #PPUGOLF