Pioneers women's golf gets two NAIA Scholar-Athletes -- Callison and Collins
July 13, 2015 at 2:30 p.m. ET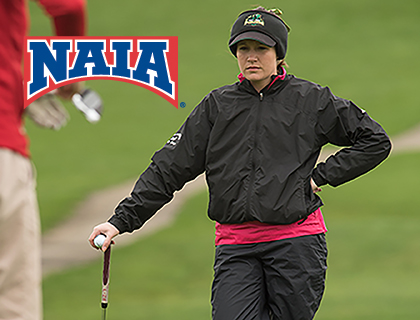 Chloe Callison (pictured) is one of two NAIA Scholar-Athletes for the Pioneers. Photo by Chris Squier.
PITTSBURGH -- Point Park University women's golf tied a program record with two players named Daktronics-NAIA Scholar-Athletes for the 2014-15 school year. Seniors Chloe Callison and Caroline Collins won the award, which is given to juniors and seniors with a 3.5 grade-point average or above.
Collins, a senior from West Middlesex, Pa., led the team with a 3.72 grade-point average. Callison, a senior from Dayton, Ohio, had a 3.55 GPA. Both were four-year players for Point Park, and they were among the 130 women's golf student-athletes in the NAIA to earn the award this year.
With two student-athletes named to the list, Point Park is two off the national leaders Clarke (Iowa) and Ottawa (Kan.), who led the country with four honorees each. The Pioneers tied the 2013-14 season for the most NAIA Scholar-Athletes in team history with two.
Follow the Pioneers on Twitter @PointParkSports hashtag #PPUGOLF. For more information on the Daktronics-NAIA Women's Golf Scholar-Athletes awardees, click here.