Point Park places 5th at St. Vincent, up next KIAC Tournament April 16-17
April 15, 2015 at 11:00 a.m. ET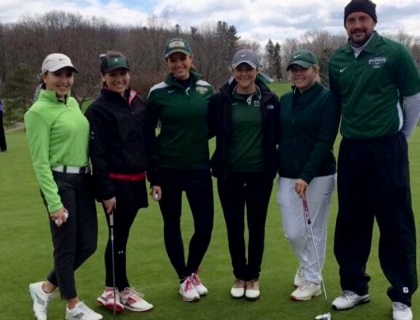 Point Park women's golfers shown at their previous tournament April 11 at Westminster.
LATROBE, Pa. -- Point Park University women's golf placed fifth at the St. Vincent Spring Invitational at Glengarry Golf Links with a team score of 401. The Pioneers now move their focus to the conference championships with the KIAC Tournament April 16-17 in Santa Claus, Ind.
Chloe Callison tied for 13th with a 96, and Lauren Martauz tied for 16th with a 97. Only seven of the 37 players in the field broke 90 with three of them being from team champion Carnegie Mellon. The Tartans shot 326 to win by 15 over Washington & Jefferson (341). Alderson-Broaddus (383) placed third.
Also competing for Point Park were Caroline Collins (T21st), Molly Burns and Rilyn Gancia (T28th) and Emily Madden (35th). Emily Slifka withdrew.
Point Park will next compete at the KIAC Tournament on Thursday and Friday at Christmas Lake Golf Course. The tournament is being hosted by Brescia University, and the winner will advance to the NAIA Women's Golf National Championships May 12-15 at Savannah, Ga.
Follow the Pioneers on Twitter @PointParkSports #PPUGOLF