Point Park adds golf team for fall 2009
June 15, 2009
PITTSBURGH - For the first time in nearly four decades, Point Park will have a golf team this coming fall.
The Point Park athletic department announced Monday that it will be adding a men's golf team and a women's golf team in the fall. The Pioneers will be competing on the links for the first time since the 1971-72 school year, and director of athletics Dan Swalga is pleased to announce the addition of the golf programs.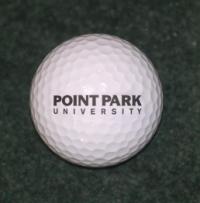 "We are excited about presenting this opportunity to our students," said Swalga, who will begin his fourth year as director of athletics in the fall. "Adding athletic programs fits in well with the university's strategic initiative of Managed Growth. Although we have plenty of organizing to do, we look forward to competing in men's and women's golf in the fall."
Men's golf had a brief history at Point Park for six years from 1966-72, and the Pioneers will have a women's golf team for the first time in their history this fall.
Swalga named Gabe Bubon the head coach of the men's and women's golf programs. For the last four years, Bubon has been the top assistant coach for the Point Park men's basketball team, a role that he will continue in the future.
The Point Park golf teams will compete in the American Mideast Conference, which included 10 men's teams and seven women's teams this past year. Like the other nine sports, the Pioneers' golf teams will be affiliated with the National Association of Intercollegiate Athletics (NAIA).
Adding those two teams will give the Pioneers a total of 11 sports that compete on the varsity level. Point Park's varsity teams also include baseball, men's and women's basketball, men's and women's cross country, men's and women's soccer, softball and volleyball.
Potential student athletes who are interested in joining the Point Park golf team should contact head men's and women's golf coach Gabe Bubon at gbubon@pointpark.edu or (412) 392-2229.

A tryout will likely be held in the future, and those interested should check the Point Park golf homepage for future details.