Bubon named Point Park men's and women's golf coach
June 15, 2009
Point Park Director of Athletics Dan Swalga named Gabe Bubon the head coach of the men's and women's golf programs on Monday.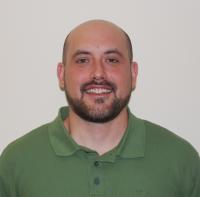 Bubon (pictured) is Point Park's fourth men's golf coach, and the first-ever women's golf coach. As a player, Bubon is a 4-handicap who plays most of his rounds competing in scratch leagues in his native Ohio. He earned four letters in golf at Warren G. Harding High School, and was the team's No. 1 player as a senior.
For the last four years, Bubon has been the top assistant coach for the Point Park men's basketball team, a role that he will continue in the future.
"This is a great opportunity for me, and I look forward to building a golf program that Point Park University can be proud of," said Bubon. "This opportunity allows me to combine my two passions - golf and basketball. I'm excited to restart the golf team and also continue my role as men's basketball assistant coach."
Bubon played basketball at Point Park in 1999-2000. He led the Pioneers in scoring at 20.1 points per game, a figure that ranked 10th in NAIA Division I. Bubon holds the school's single-game scoring record with 45 points versus Shawnee State on Feb. 11, 2000.
Anyone interested in joining the Point Park golf team is encouraged to contact coach Bubon at gbubon@pointpark.edu.
After being named the Point Park men's and women's golf coach, Bubon has a little more than two months to put together his squads before the fall. Bubon's main focus is hitting the recruiting trail, and he feels he's up to the task.

"I am excited about this opportunity," said Bubon (pictured above), "and I definitely have a lot of work ahead of me to fill out the rosters before the fall. But I think I am up to the challenge."