Point Park University women's golf adds two recruits for fall of 2011
March 8, 2011
PITTSBURGH – Point Park University women's golf coach Gabe Bubon announced the signing of incoming freshmen Caroline Collins and Lauren Martauz last month. Both players will compete for the Pioneers beginning in the fall of 2011.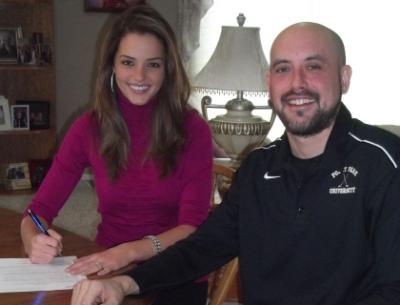 Pictured: Caroline Collins with head coach Gabe Bubon. Submitted photo.
Collins is a native of West Middlesex, Pa., and was the No. 1 player for the Kennedy Catholic High School golf team the last three years. A District 10 first-team selection, Collins placed fifth at the District 10 tournament as a junior and seventh as a senior. She qualified for that tournament all three years.
"Caroline is great fit for our program, and we are excited to have her," said Bubon. "She had some success on the high school level, and she comes from a golf family, which is a great bonus."
Caroline's father, Bob Collins, is the Director of Golf and a PGA Professional at Oak Tree Country Club in West Middlesex, Pa.

Pictured: Lauren Martauz with her mother Nancy and coach Bubon. Submitted photo.
Martauz is a native of Youngstown, Ohio, and she earned four varsity letters for the Ursuline High School golf team. She was the team's No. 1 player and a team captain as a senior after being the No. 2 player the previous two years. Martauz competed in the district tournament as a sophomore and carded a scoring average around 43.5 over nine holes her senior season. She is the daughter of Nancy and the late Michael Martauz.
"We are very happy to add Lauren to the program," said Bubon. "She has a huge upside. She has gotten better each and every year of high school, and with further practice and dedication on the college level, I think the sky is the limit for her."
The Point Park University women's golf team is currently in its second year of existence after being introduced as varsity sport in the summer of 2009. The fall 2011 will mark the third recruiting class to enter into the program.