Point Park women's golf recruiting class for 2011-12 rounded out with three additions
Callison, Gancia and Slifka added to the Pioneers
PITTSBURGH -- Point Park University women's golf coach Gabe Bubon's 2011-12 recruiting class has been completed with the addition of three incoming freshmen -- Chloe Callison, Rilyn Gancia and Emily Slifka.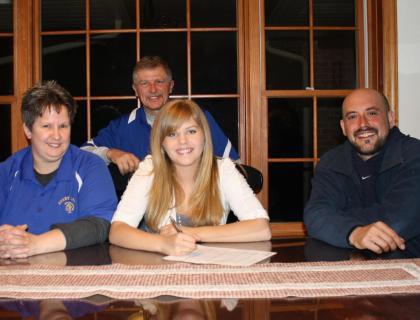 Emily Slifka (pictured above) is a native of Blairsville and a graduate of Derry Area High School. She was a WPIAL championship qualifier as a senior at Derry, the first golfer from her school to make it that far.
"Emily has a bright future at Point Park," said Bubon. "She gets better every year, and I hope for her to be one of my top players the next four years."
Callison is an incoming freshman from Dayton, Ohio, and she was an honorable-mention all-conference selection for her high school team.
"Chloe is a three-year player with some good experience," said Bubon. "She shoots in the mid-90s, and we are excited to see her game progress in a collegiate program."
Gancia is an incoming from Monroeville, Pa., and Gateway High School. She was a solid player at Gateway, and her best-ever performance on nine holes was a 44 in the fall 2010.
"Rilyn is a nice addition for us," said Bubon. "She is a solid player, good student, good person -- we are glad to have her at Point Park, and the college program is only going to help her game."