Point Park places 3rd at UNOH, Collins named All-Tournament in T-4th
Sept. 23, 2011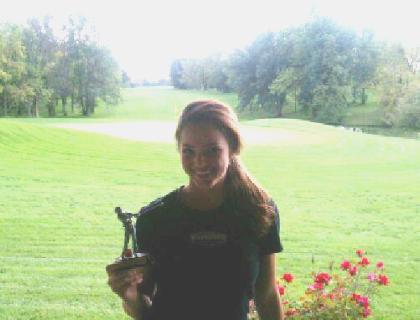 Caroline Collins poses with her All-Tournament Trophy Friday at Hawthorne Hills GC
LIMA, Ohio -- The Point Park University women's golf team placed third of five teams Friday at the University of Northwestern Ohio Racer Invitational, and freshman Caroline Collins was named to the All-Tournament Team after finishing in a tie for fourth place individually.
Collins, from West Middlesex, Pa., shot an 87 to lead the Pioneers to a team score of 382. Lauren Martauz, a freshman from Youngtown, Ohio, shot a 93 to place 10th.
Collins finished five shots back of medalist Maggie Reiman of Malone, who had a low round of 82. In all, only six players broke 90 on a cold and rainy day at Hawthorne Hills Golf Club in Lima, Ohio.
Malone was the team champion at 352, and it won by 11 strokes over second-place and host Northwestern Ohio (363). Ursuline was fourth at 398, and Indiana-East came in at 432.
Also competing for Point Park were Emily Slifka (99), Chloe Callison (103) and Taylor Cormas (114).
Point Park has competed in three of its four scheduled fall tournaments so far. The Pioneers have finished second, second and third in those events. Point Park concludes its fall slate Oct. 8 at Grove City.