Point Park University women's golf places 2nd at Grove City Invitational
March 24, 2012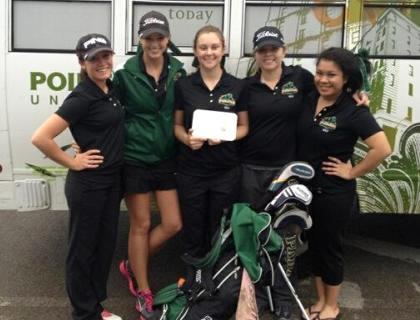 Point Park women's golf placed 2nd at Grove City (L to R): Chloe Callison, Caroline Collins, Lauren Martauz, Emily Slifka and Rilyn Gancia.
GROVE CITY, Pa. -- The Point Park University women's golf team placed second of six teams at the Grove City College Invitational on Saturday (March 24), and Caroline Collins and Emily Slifka each placed in the top 10 to lead the Pioneers.
Point Park, with a lineup of five freshmen, had a team score of 396 to take second place and was three shots ahead of third-place team and host Grove City at 399. Clarion's A team took first place by a wide margin at 349.
Collins, a freshman from West Middlesex, Pa., was tied for eighth individually with a 91 (44-47). Emily Slifka, a freshman from Blairsville, Pa., came in tied for 10th with a 95 (48-47).
Of the 35 players in the field, only six broke 90 in the wet conditions at Grove City Country Club. Samantha Veights of Clarion's A team was the medalist at 83.
Rounding out Point Park's five players were freshmen Lauren Martauz (99) in 15th place, Rilyn Gancia (111) in 28th place and Chloe Callison (113) in 29th place.