Point Park women's golf places eighth at Unaffiliated Group Tournament
April 21, 2012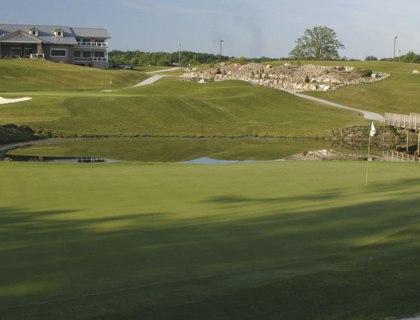 The 18th hole at Glendarin Hills Golf Club in Angola, Ind. Photo courtesy GHGC.
TEAM RESULTS, INDIVIDUAL RESULTS
ANGOLA, Ind. -- The Point Park University women's golf team finished eighth of nine teams at the Unaffiliated Group Tournament April 20-21 at the Glendarin Hills Golf Club in Angola, Ind.
The Pioneers shot a two-day total of 826 (400-426) at the event that consisted of teams from the American Mideast Conference and the American Midwest Conference. Both of those leagues fall short of the six teams required for an automatic bid to the NAIA national tournament.
The nine-team event qualified one school -- team champion Bethel (Ind.) -- for the NAIA Women's Golf National Championship. Bethel had a tournament total of 655 (327-328) and cruised to a 36-shot victory.
Point Park's Caroline Collins was the top finisher for the Pioneers, who entered four freshmen and a sophomore in the 42-player event. Collins, a freshman from West Middlesex, Pa., placed 25th with rounds of 88-99--187. Collins registered a hole-in-one on the first day of the tournament to spark her round of 88.
Emily Slifka, a freshman from Blairsville, Pa. was tied for 30th with rounds of 98-104. Fellow freshmen Lauren Martauz, from Youngstown, Ohio, and Chloe Callison, from Dayton, Ohio, finished in 34th and 38th place. Sophomore Taylor Cormas, from North Huntingdon, Pa., was 41st.
Point Park's third-ever season of women's golf has come to an end after nine tournaments in 2011-12. The Pioneers won the Grove City Fall Invitational Oct. 15 and also collected three second-place trophies and three third-place finishes over the course of the year.
Follow us on Twitter @PointParkSports and Facebook.com/PointParkAthletics