Point Park women's golf places 4th of 8 teams at St. Vincent Invitational
Sept. 17, 2012 at 10:45 p.m. ET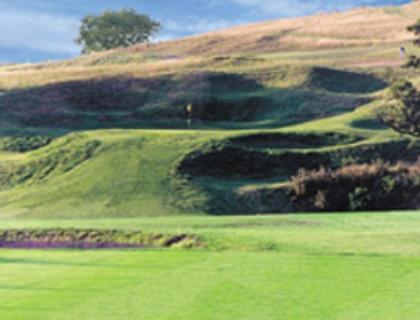 Glengarry Golf Links, site of the St. Vincent Invitational, in Latrobe, Pa.
LATROBE, Pa. -- The Point Park University women's golf team turned in another solid finish in its second event of the fall season as the Pioneers placed fourth of eight teams at the St. Vincent Invitational on Monday at Glengarry Golf Links.
Point Park posted a team score of 360 to register a new program-best team score over 18 holes. The Pioneers' previous-best score of 362 came last Friday when they were fourth of eight teams at the season-opening Ursuline tournament.
Point Park, which is in its fourth year of competition in women's golf, finished behind three NCAA Division II schools at St. Vincent. Taking the team title was Ursuline at 328 followed by West Virginia Wesleyan (341) and Fairmont State (351).
After the Pioneers at 360, there was a big gap before four NCAA Division III schools -- Westminster (403), Grove City (413), St. Vincent (417) and Thiel (424).
Point Park freshman Molly Burns, from Merced, Calif., earned a top-10 finish as her score of 88 (46-42) put her in a tie for ninth. Sophomore Emily Slifka, from Blairsville, Pa., and junior Karina Palmberg, from Sao Paulo, Brazil, tied for 12th at 90. Palmberg shot a 41 on the front nine.
The Pioneers' team score of 360 was completed with a 92 by Caroline Collins, a native of West Middlesex, Pa., who finished tied for 15th.
Also competing for Point Park were Chloe Callison (19th, 95), Rilyn Gancia (21st, 97), Lauren Martauz (T22, 98) and Rowan Lewis (T37th, 115).
Point Park's next tournament is Sept. 23-24 at the Allegheny Invitational. The Pioneers finish up their four-event fall schedule Sept. 29-30 at the California (Pa.) Invitational.