Point Park women's golf finishes 4th at Allegheny Invitational, Palmberg 3rd
Sept. 24, 2012 at 5:00 p.m. ET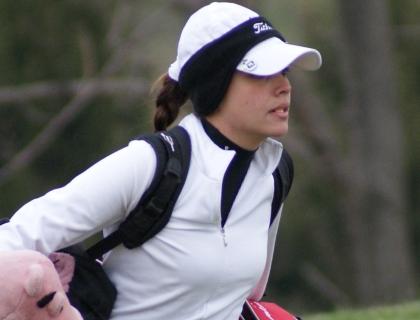 Karina Palmberg placed third individually to lead the Point Park women at Allegheny.
MEADVILLE, Pa. -- Point Park University women's golf finished fourth of five teams at the Allegheny Invitational on Sunday and Monday at the Country Club of Meadville. Junior Karina Palmberg, a native of Sao Paulo, Brazil, finished third individually with rounds of 79 and 84 for a two-day total of 163.
Point Park carded scores of 379 and 377 for a 36-hole score of 756. The Pioneers were just three shots behind third-place Mercyhurst (374-379--753).Host Allegheny easily won first place at 669 followed by second-place Baldwin Wallace at 688. Mount Union placed fifth at 831.
Palmberg, who transferred this year from California (Pa.), was just two shots off the lead after Sunday's first round. Her opening-round 79 was the first time in the four-year history of Point Park women's golf that a player broke 80.
Sarah Vorder Bruegge of Allegheny was the medalist with a two-day total of 155 (79-76). That put her eight shots ahead of Palmberg and seven ahead of teammate Liz Bltyh (81-81), who finished second at 162.
Point Park's Caroline Collins placed 16th in the 29-player field with back-to-back rounds of 95. Emily Slifka (98-101) and Molly Burns (107-97) finished 21st and 22nd respectively. Rilyn Gancia (115-103) was 27th.
The Pioneers conclude their four-tournament fall schedule Sept. 29-30 at the California (Pa.) Invitational at Cedarbrook Golf Course in Belle Vernon, Pa.
Follow us on Twitter @PointParkSports and Facebook.com/PointParkAthletics