Palmberg wins Cal U Vulcan Invitational, Point Park places 2nd of 4 teams
Sept. 30, 2012 at 8:40 p.m. ET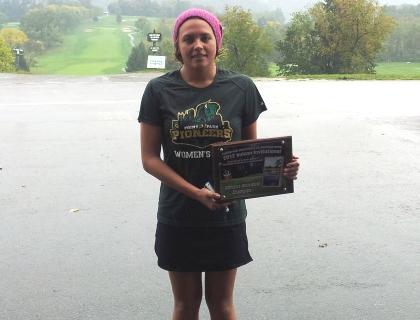 Point Park's Karina Palmberg poses with her first place trophy from the Cal U tournament. Photo by Gabe Bubon.
FINAL RESULTS: TEAM, INDIVIDUAL
BELLE VERNON, Pa. -- Returning to the home course of the school that she spent two years playing for, Point Park University junior transfer Karina Palmberg won the California (Pa.) Vulcan Invitational held Sept. 39-20 at Cedarbrook Golf Course. Palmberg's victory led Point Park to second place of four teams in the team standings.
Palmberg, a native of Sao Paulo, Brazil, who is in her first year at Point Park, shot 84 in the first round and 82 in the final round to earn a four-shot victory. Palmberg's two-day total of 166 bested former Cal U teammate Marine Verchere (89-81) and Mercyhurst's Caitlin Kempton (88-82), who tied for second at 170.
Palmberg shared the first-round lead with Sammie Faraghan of Cal U at 84, but Faraghan fell back to third with a tournament total of 171 after an 87 on Sunday.
Point Park's final team score over 36 holes was 726. That put the Pioneers three shots ahead of Clarion (729) and 12 clear of Washington & Jefferson. Mercyhurst bested the four-team field at 707.
Point Park was in second place after a team score of 368 in the first 18 holes. The Pioneers followed that up with their lowest 18-hole score ever with a 358 in the final round.
Besides Palmberg in first place, the Pioneers had two other top-10 finishes as sophomores Caroline Collins and Emily Slifka tied for 10th with a two-day total of 181. Collins, from West Middlesex, Pa., shot 91-90, while Slifka, from Blairsville, Pa., came in at 92-89.
Sophomore Lauren Martauz (103-97) placed 20th at 200, and freshman Molly Burns (101-105) was 24th at 206.
This weekend's tournament concluded the Pioneers' four-tournament fall schedule. They will have a full spring slate that will be announced at a later date. The spring schedule will include the Kentucky Intercollegiate Athletic Conference tournament.
This fall season, which was the start of the fourth year of the women's golf program, the Pioneers placed fourth at Ursuline, fourth at St. Vincent, fourth at Allegheny and finally second at California (Pa.).
Follow us on Twitter @PointParkSports and Facebook.com/PointParkAthletics