Point Park women's golf adds two strong recruits for 2012-13 school year
Posted on Aug. 3, 3012 at 4:00 p.m. ET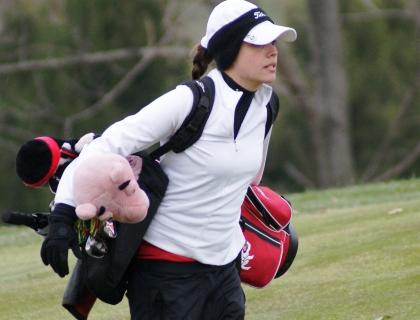 Transfer Karina Palmberg had an average of 81.3 in her best year at Cal (Pa.). Photo by Cal athletics.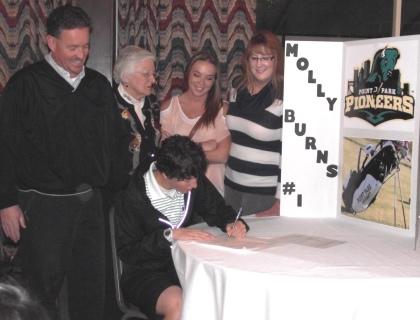 Freshman Molly Burns of Merced, Calif., at her signing in her local area earlier this year. Submitted photo.
PITTSBURGH -- The Point Park University women's golf recruiting class will add two key players for the 2012-13 school year. Head coach Gabe Bubon has added junior transfer Karina Palmberg (Sao Paulo, Brazil) and incoming freshman Molly Burns (Merced, Calif.) to the roster for this coming year.
Palmberg, a native of Sao Paulo, Brazil, spent two years at NCAA DII California (Pa.) and will be a junior at Point Park. Palmberg competed in the NCAA DII national tournament as a freshman in 2009-10 after placing 19th at the regional championship. She was seventh at the PSAC Championship to earn All-PSAC honors.
Palmberg posted a scoring average of 81.3 as a freshman at Cal. She competed in four events as a sophomore with an average of 87.1. Outside of her college career, she also has on her resume the title of Brazilian women's amateur champion and four years on the South American Junior Team.
Burns, a native of Merced, Calif., and a graduate of Merced High School, will be a freshman in the fall of 2012. She is a three-time All-Central California Conference First Team selection (2009, 2010, 2011). Burns was named to the All-Area Team and the was chosen as the All-Area Golf of the Year by the Merced Sun-Star in 2010.
Burns' scoring average over 18 holes is in the mid-to-high 80s. In September of 2011, she shot a 39 in a 9-hole high school match to set a school record.
Head coach Gabe Bubon on the 2012-13 women's golf recruits:
"We are fortunate to get a player like Karina Palmberg with two years left. She has experience in a national tournament at the NCAA DII level. The sky's the limit for her, and I expect big things from Karina."
"We are very excited to add Molly Burns to the program. She had a strong high school career and can only get better. She likes Pittsburgh and all that Point Park has to offer, so it was a great fit for her and us."