Point Park women's golf places 2nd of 8 teams at Westminster Invitational
April 8, 2013 at 10:15 p.m. ET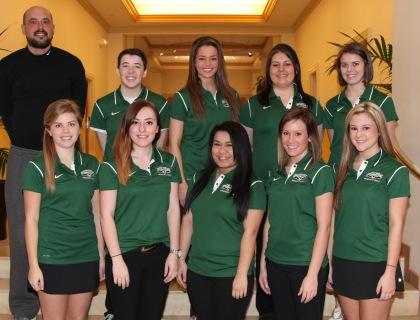 NEW CASTLE, Pa. -- The Point Park University women's golf team started its spring season on Monday with a strong showing at the Westminster Invitational as the Pioneers placed second of eight teams and finished just two shots behind team champion Mt. Union.
Mt. Union won the team title with a 382, and Point Park was close behind in second at 384. The only other team under 400 for a team score was third-place Clarion.
Point Park's sophomore Rilyn Gancia, from Monroeville, Pa., finished second individually with a 92. That score tied for the low-round of the day, but Gancia lost out on a tiebreaker for medalist honors, which took into account each players's score on the No.1-handicap hole.
Lauren Martauz also placed in the top 10 for the Pioneers with a 96, which was good for a tie for ninth place. Caroline Collins carded a 97 to finish 12th followed by Molly Burns at 99. Chloe Callison came in with a 106.
The Pioneers continue the spring schedule this Thursday, April 11 with a date at Carlow.
Follow us on Twitter @PointParkSports and Facebook.com/PointParkAthletics