Collins, Gancia take first and second for Point Park at St. Vincent
April 11, 2013 at 10:30 p.m. ET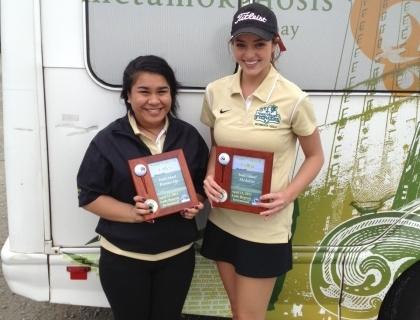 Rilyn Gancia (left) placed second and Caroline Collins (right) placed first at St. Vincent on Thursday.
LATROBE, Pa. -- Point Park University women's golf had that top two finishers at the St. Vincent Invitational on Thursday at Glengarry Golf Links as Caroline Collins placed first with an 85, and Rilyn Gancia placed second with an 89 on the Par 70 course.
The Pioneers had three of the top six performers in the event that included a total of 15 individual players. Only individual standings were tabulated, and team scores were not taken.
Collins is a sophomore from West Middlesex, Pa., and Gancia is a sophomore from Monroeville, Pa. Lauren Martauz, a sophomore from Youngstown, Ohio, came in sixth with a 94. Freshman Molly Burns tied for 10th with a 96, and Chloe Callison turned in a 97.
Point Park had eight players in the field with Rowan Lewis and Ashley Funkhouser carding 109s and Taylor Cormas totaling a 126.
It was the first-career win for Collins, and it is the second time in a row that Gancia placed second. She also was second last week at Westminster, where she tied for the low score but lost in a scorecard playoff.
Point Park's next competition is Monday, April 15 at the Waynesburg Invitational at Greene County CC. Tee time is 11:30 a.m.
Follow the Pioneers on Twitter @PointParkSports and Facebook.com/PointParkAthletics