Point Park women's golf opens fall season in 2nd place at St. Vincent
Sept. 19, 2013 at 10:15 p.m. ET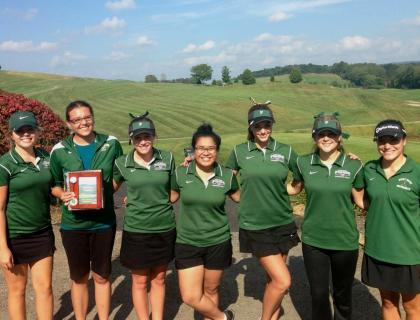 Point Park women's golfers place 2nd at St. Vincent were (L to R) Emily Slifka, Karina Palmberg, Chloe Callison, Rilyn Gancia, Caroline Collins, Lauren Martauz and Keri D'Angelo.
By Zachary Weiss, Point Park University Athletic Communications Student Assistant
LATROBE, Pa. -- The Point Park University women's golf team opened its season by placing second at the Saint Vincent Invitational on Thursday at Glengarry Golf Links.
Notre Dame College (Ohio) won the team title shooting a 333, with Point Park right behind at 352. The team score of 352 was the best score ever for the Pioneers' program, which is now in its fifth year.
The Pioneers returned Karina Palmberg and Emily Slifka both of whom missed the spring season. Palmberg finished first overall with a 76, the lowest score in program history, while Slifka shot an 81 to finish in fourth place.
Palmberg is a junior from Sao Paulo, Brazil, who transferred to Point Park last year from California (Pa.). Slifka is a junior from Blairsville, Pa. It was the second career tournament win for Palmberg.
Caroline Collins tied for 18th place with a 97 as she battled an illness, while Lauren Martauz and Rilyn Gancia rounded out the Pioneer starters with a 98 and 108, respectively. Head coach Gabe Bubon was pleased with how his team fared.
 "Having Emily and Karina back on the team makes a world of difference," Bubon said. "They shot two of the best scores we've had in a while. The other girls are fine as long as they stay away from the big numbers. It's early in the year though and I'm happy. Anytime we can finish first, second or third, I'll take that any day."
Chloe Callison and Keri D'Angelo competed individually for Point Park and shot 94 and 95.
The Pioneers will continue the fall portion of their schedule Saturday in New Castle, Pa., while taking part in the Westminster Invitational. At the tournament, Bubon is looking for one thing.
"I need a third and fourth scorer to consistently shoot in the high 80's or low 90's," Bubon said. "If we can have that, then we're pretty much right there with any team around the area and the KIAC."
Follow @PointParkSports for more updates on Point Park Women's Golf