Point Park takes fifth at Unaffiliated Tournament, places three on All-KIAC team
April 23, 2013 at 10:45 p.m. ET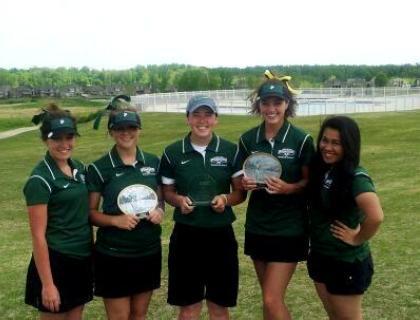 Point Park women's golfers at the Unaffiliated Tournament (L to R): Chloe Callison, Lauren Martauz (All-KIAC), Molly Burns (All-KIAC, KIAC Runner-Up), Caroline Collins (All-KIAC) and Rilyn Gancia.
ATHENS, Ala. -- The Point Park University women's golf team placed fifth of six teams at the Unaffiliated Tournament held April 22-23 at Canebrake Golf Club in Athens, Ala.
The tournament consisted of teams from the Kentucky Intercollegiate Athletic Conference, the Gulf Coast Athletic Conference and the Trans South Conference, all three of which are NAIA conferences that fall short of the required six teams for an automatic bid to the national tournament.
Point Park is a member of the KIAC, which has only three women's golf programs -- Point Park, Asbury (Ky.) and Brescia (Ky.). The Pioneers were second of the three KIAC teams this week at the Unafiliated Tournament as Brescia (Ky.) was fourth, Point Park fifth and Asbury (Ky.) sixth.
Point Park shot a team score of 401 in the first round and 369 in the final round for a 36-hole total of 770. The winning team was Bethel (Tenn.), which won the automatic bid to the NAIA national tournament with rounds of 335-334--669.
Point Park had three players make the All-KIAC team, which consisted of players who finished among the top 10 competitors from the three KIAC schools. Molly Burns, a freshman from Merced, Calif., placed 10th overall and in second place among KIAC players to lead the Pioneers' all-conference performers. Burns shot rounds of 90 and 86 for a two-day total of 176.
Also making the All-KIAC Women's Golf Team this year were Caroline Collins (102-88) in a tie for 19th overall and Lauren Martauz (100-93) in 21st place overall.
Chloe Callison shot 109-103, and Rilyn Gancia came in at 113-102. Individual champion Hannah Griffin of Freed-Hardeman shot 78-81--159.
With the Unaffiliated Tournament, the season comes to an end for Point Park. The Pioneers had four sophomores and a freshman compete at the tournament this week.
Follow the Pioneers on Twitter @PointParkSports and Facebook.com/PointParkAthletics