Point Park's Palmberg closes out NAIA Women's Golf National Championship
May 24, 2014 at 12:00 p.m. ET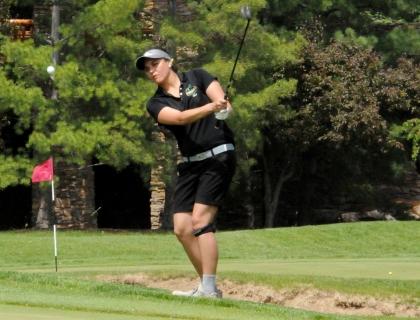 Karina Palmberg takes a pitch shot during the first round of the NAIA tournament on May 20. Photo by Jordan Alves.
LINCOLN, Neb. -- Point Park University senior Karina Palmberg closed out her stay at the NAIA Women's Golf National Championship on Thursday (May 22), and although she did not make the cut for Friday's final round, she will always go down as the first-ever Pioneers women's golfer to compete at the NAIA national tournament.
Palmberg's week got tougher as it wore on, but the native of Sao Paulo, Brazil, competed until the end. She made a birdie on No. 18 on Thursday, her 54th and final hole of the tournament. It was not the final total she wanted with a third-round 91, but she played well down the last stretch to finish strong.
Palmberg played her final four holes at even par and was just 2-over for her final six holes. It was a rough front nine that got her off to a bad start, but she regrouped at the turn to play better.
She had an afternoon tee time for the second round on Wednesday, a round that she didn't complete until nearly 8 p.m. local time. Players are re-paired after 36 holes according to the team leaderboard, and since she was one of the 10 individual qualifiers not attached to a team, Palmberg had to make a quick turnaround to a 7:30 a.m. tee time for round three the next day.
Palmberg, who qualified as the champion of the Unaffiliated KIAC/RRAC Tournament, ended up placing tied for 108th in the 144-player field. Her average score of 87 for the week was a few strokes higher than the average for the tournament through three rounds of 83.02.
The 54-hole cut was limited to the top 17 teams and the top 40 individuals. Only four of the 10 individual qualifiers made the cut among the top 40 players.
Follow the Pioneers on Twitter @PointParkSports