Palmberg shoots 83 in Rd 1 of NAIA tourney, Tees Off at 2:50 pm CT for Rd 2
May 21, 2014 at 10:45 a.m. ET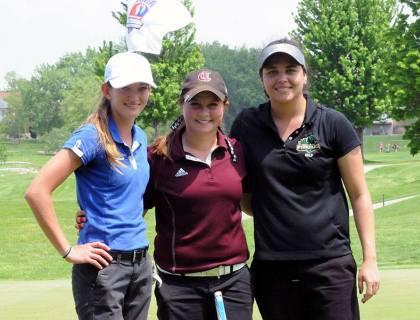 Point Park's Karina Palmberg (far right) pictured with her NAIA National Championship pairing Paige Moffat (left) of Johnson & Wales (Fla.) and Cassidy Scantland (center) of Campbellsville (Ky.). Photo by Jordan Alves, CU athletics.
LINCOLN, Neb. -- Point Park University's Karina Palmberg shot 83 in the first round of the NAIA Women's Golf National Championship on Tuesday (May 20) at Wilderness Ridge Golf Club in Lincoln, Neb.
The native of Sao Paulo, Brazil, stands in a tie for 66th place in the 144-player field, and she tees off for round two on Wednesday (May 21) from hole No. 1 at 2:50 p.m. CT. She is the first-ever Point Park women's golfer to compete in the NAIA tournament.
It was a solid score for Palmberg, who was one of 16 players to shoot 83. There were 46 players who broke 80 in the first round Tuesday including individual leader Bri LaFoca of Northwood (Fla.) with a 1-under 71.
Palmberg did well to keep her score within the top half of the field, especially considering her three double bogeys. Two of those came on par-5s, including hole No. 9, her last of the day. Before that double bogey to finish, she was just 3-over for her back nine, including a birdie on No. 7, a par 5.
Many of the scores in the afternoon rounds were higher given the midwestern winds that begin to gust on a daily basis. Palmberg teed off at 9:20 a.m. CT for round one, but she will have to contend with those winds for her 2:50 p.m. CT tee time in round two.
Palmberg is a transfer from California (Pa.), and she is in her second year at Point Park. She competed the NCAA Division II national tournament while at California. Palmberg qualified for the NAIA tournament by being the medalist at the KIAC/RRAC Unaffiliated Group Tournament May 5-6 in Athens, Ala.
Palmberg was playing with other individual qualifiers Cassidy Scantland of Campbellsville (Ky.) and Paige Moffat of Johnson & Wales (Fla.). Scantland, a freshman, is just two shots off the lead after a 1-over 73. Moffat shot 83 to match Palmberg.
Follow Karina Palmberg all week long in the tournament that continues through Friday. The field will be cut after three rounds.
Follow Live Scoring provided by Golfstats and Live Video from holes No. 9 and No. 18 provided by host Doane (Neb.) College.
LIVE SCORING / LIVE VIDEO
Note: The video stream is available for both live and on-demand viewing. Coverage of Palmberg is located at the 2-hour, 5-minute mark for No. 18 and the 4-hour, 27-minute mark for hole No. 9 for the broadcast labeled "Day 1."