Palmberg cards 87 in Round 2 of NAIA Women's Golf National Championship
May 22, 2014 at 10:45 a.m. ET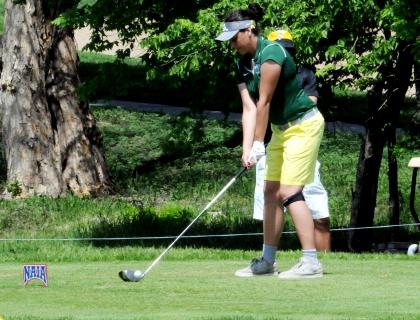 Point Park's Karina Palmberg tees off in Rd 2 of the NAIA tournament on May 21, 2014. Photo by Jordan Alves, CU athletics.
LINCOLN, Neb. -- Point Park University's Karina Palmberg shot 87 in the second round of the NAIA Women's Golf National Championship on Wednesday at Wilderness Ridge Golf Club in Lincoln, Neb.
The senior from Sao Paulo, Brazil, has been right around the average score for the tournament both days and finds herself tied for 88th in the 144-player field entering the third round on Thursday.
Palmberg, who is the first-ever Point Park women's golfer to compete at the NAIA tournament, tees off at 9:30 a.m. ET on Thursday for round three. There will be a cut after the third round with only the top 17 teams and top 40 individual players making it to Friday's final round. Palmberg enters Thursday 10 shots off the pace of 40th place.
Palmberg is +26 through 36 holes after shooting 83 in the first round and 87 in the second round. The average score in the tournament for all players in 83.39. Scoring slightly increased to 83.79 for round two, which was up nearly a shot from the first round.
Palmberg birdied holes No. 9 and No. 18 and also mixed in two pars on both the front and back nine. But for Palmberg is was unfortunately t0o many high numbers on the day.
Follow Palmberg in round three with Live Scoring and Live Video provided by the NAIA and host Doane (Neb.):
Live Scoring / Live Video