Point Park takes 7th at Allegheny, flirts with team scoring record in Final Rd

Sept. 30, 2014 at 11:30 a.m. ET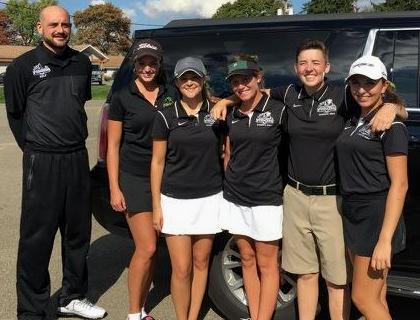 MEADVILLE, Pa. -- The Point Park University women's golf team placed seventh of nine teams in a challenging field at the Allegheny Invitational at The Country Club at Meadville Sunday and Monday.
The Pioneers knocked 26 strokes off their first-round score in the final round Monday to flirt with a team scoring record, but it was not enough to gain any ground on the talented teams in front of them.
Point Park shot a team score of 380 in Sunday's opening round to place seventh after 18 holes. The Pioneers were seventh in the final standing despite shooting 354 in the final round.
The team score of 354 on Monday was just two shots off the team scoring record for 18 holes. The team record of 352 came at the St. Vincent Fall Invitational Sept. 19, 2013.
The Pioneers put three players in the 80s on Monday led by Lauren Martauz at 86, Caroline Collins at 88 and Emily Slifka at 89. Martauz shot 92-86 over the two days to place 22nd to lead the team.
Slifka was next in a tie for 24th after shooting 92-89. Collins ended up in a tie for 27th with rounds of 94-88.
Alena Lancia shot a 91 over the final 18 holes to move up to 40th place individually, and Molly Burns was 48th with a 102 being her best round of the tournament. Chloe Callison competed as an individual and placed in a tie for 44th with rounds of 100 and 99.
The strong shooting on Monday could not over come the strong teams at the top of the leaderboard. The University of Toronto won the tournament by 17 strokes over Mercyhurst, an NCAA Division II school.
The standings continued with Seton Hill in third, Carnegie Mellon in fourth, host Allegheny in fifth and Clarion in sixth.
Follow the Pioneers on Twitter @PointParkSports #PPUGOLF