Point Park women's golf places 2nd of 7 teams at Grove City Invitational
Sept. 9, 2014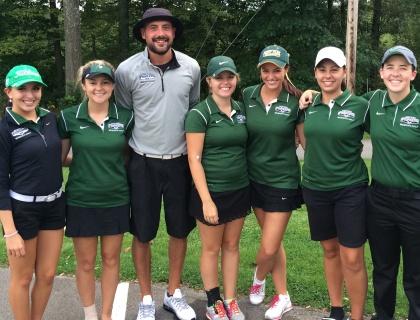 Point Park Women's Golf after finishing 2nd at Grove City (L to R): Alena Lancia, Lauren Martauz, coach Gabe Bubon, Emily Slifka, Caroline Collins, Emily Madden and Molly Burns.
GROVE CITY, Pa. -- The Point Park University women's golf team came up with another high finish by placing second of seven teams on Tuesday at the Grove City College Invitational at Grove City Country Club.
Tuesday's result was just three days after the Pioneers placed third at the Westminster Invitational to open the fall golf season. Point Park fired a team score of 361 at Grove City, which was bested only by team champion Carnegie Mellon University at 345.
Caroline Collins tied for fourth individually for Point Park by shooting a team-best score of 85. Emily Slifka was not far behind with an 89 for seventh place. Three Pioneers players were in the Top 10 with Lauren Martauz taking 10th place with a 93. Alena Lancia shot 94 to place 11th overall.
Collins was six shots back of medalist Summer Kithahara of CMU, who was the only player to break 80 with a 79. Point Park tied CMU with three players in the Top 10.
Molly Burns shot 99, which was good for 18th place of 35 players in the field. Point Park's Emily Madden competed as an individual and was 28th with a score of 110.
After Carnegie Mellon (345) and Point Park (361), the team leaderboard included Malone (367), St. Vincent (386), Grove City (412), Mt. Aloyisius (427) and Waynesburg (675).
Point Park's is next in action Sept. 16 at the St. Vincent Fall Invitational at Glengarry Golf Links in Latrobe, Pa.