Point Park women's golf places second at St. Vincent Invitational
April 10, 2014 at 10:50 p.m. ET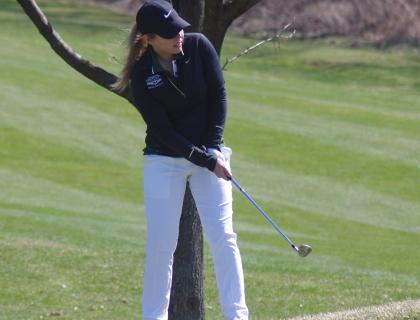 Point Park's Emily Slifka shot a 97 to tie for seventh in the tournament. Photo by Jeff Zidek, SVC athletics.
LATROBE, Pa. -- The Point Park University women's golf team placed second of six teams at the St. Vincent College Invitational on Thursday at Glengarry Golf Links.
The Pioneers had a team score of 389, which was eight shots back of team champion St. Vincent, the host school, at 381. Grove City placed third at 399 followed by Thiel (437), Washington & Jefferson (443) and Waynesburg (470).
Karina Palmberg, a senior from Brazil, led Point Park with a 95 to place tied for fifth. There were only two rounds under 90 of the 34 players in the field, one of which was the medalist Sarah Rebitch of St. Vincent with an 84.
Point Park's Emily Slifka tied for seventh with a 95, and teammate Rilyn Gancia tied for ninth with a 97. The Pioneers' competitors also included Caroline Collins and Chloe Callison, who each shot 99 to tied for 11th.
Point Park's next event is Saturday, April 12 at the Westminster Invitational for 18 holes at New Castle Country Club.
Follow the Pioneers on Twitter @PointParkSports