Pioneers take 2nd at Grove City, Palmberg medalist & KIAC Golfer of the Week
April 15, 2014 at 10:45 a.m. ET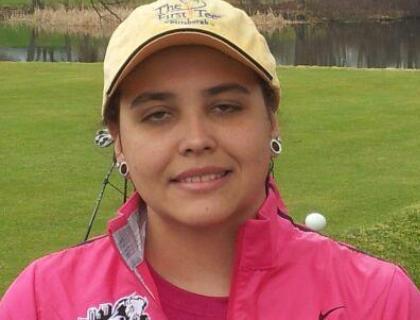 Karina Palmberg won medalist at Grove City April 14 and is the KIAC Women's Golfer of the Week April 7-13.
GROVE CITY, Pa. -- Monday was a big day for Point Park University women's golf and senior Karina Palmberg. The Pioneers placed second at the Grove City Invitational -- their third tournament in a row that they finished runner-up -- and Palmberg took medalist honors with an 84.
Palmberg, who won by five shots at Grove City, also got another individual award on Monday when she was named the KIAC Women's Golfer of the Week April 7-13. She received that award for finishing first and fifth in the two tournaments last week at Westminster and St. Vincent, respectively.
Palmberg is a senior from Sao Paulo, Brazil, and the top player for the Pioneers, who nearly won three straight tournaments over the course of a week.
Point Park shot a team score of 383 on Monday at Grove City, which was seven shots back of champion Clarion at 376 but also four shots clear of third-place Grove City at 387. Westminster was fourth at 418 followed by Carnegie Mellon at 438.
Point Park's Emily Slifka tied for fifth individually with a 93, and teammate Caroline Collins was also in the Top 10 in a tie for ninth at 97. Rilyn Gancia shot 109 to tie for 24th, and Chloe Callison shot 113 to place 30th.
The Pioneers' next event is May 5-6 at the Unaffiliated Group Tournament in Athens, Ala. The team champion will receive an automatic bid to the NAIA national tournament.
Follow the Pioneers on Twitter @PointParkSports