Point Park continues strong fall showing placing third at St. Vincent
Sept. 16, 2014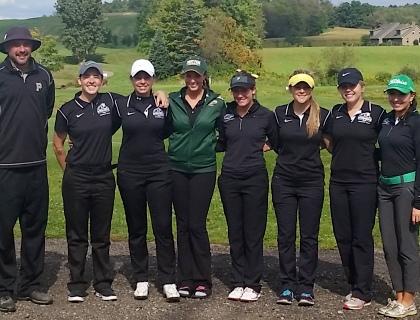 Point Park women's golf's third-place team at SVC (L to R): Head coach Gabe Bubon, Molly Burns, Emily Madden, Caroline Collins, Chloe Callison, Lauren Martauz, Emily Slifka and Alena Lancia.
LATROBE, Pa. -- The third tournament of the fall season for Point Park University women's golf meant another high finish for the Pioneers on Tuesday at the St. Vincent Invitational. Point Park placed third of seven teams at Glengarry Golf Links for its third top-three placement in as many events this fall.
Point Park posted a team score of 358 -- its best score of the fall -- to continue its strong showing. Other fall tournaments so far have included second place at Grove City and third place at Westminster.
The Pioneers have finished behind Carnegie Mellon in all three events, and CMU won the team title at St. Vincent by 16 strokes with a team score of 334. NCAA Division II Alderson-Broaddus was second at 350, eight shots ahead of Point Park.
Point Park's Emily Slifka fired an 85 on the par-70 layout to place fifth individually. Lauren Martauz tied for seventh with an 88. Chloe Callison competed as an individual and shot 90, which was good for a tie for 10th.
Caroline Collins (92) tied fo 13th, and Alena Lancia (93) was one shot back in a tie for 16th. Molly Burns (102) and individual competitor Emily Madden (110) also participated for the Pioneers.
Alderson-Broaddus' Natalie Perry earned medalist honors with a 78. The only other player to break 80 was CMU's Summer Kitahara with a 79.
Follow the Pioneers on Twitter @PointParkSports