Point Park lands four players on KIAC Women's Soccer All-Conference Teams
Nov. 14, 2013 at 3:30 p.m. ET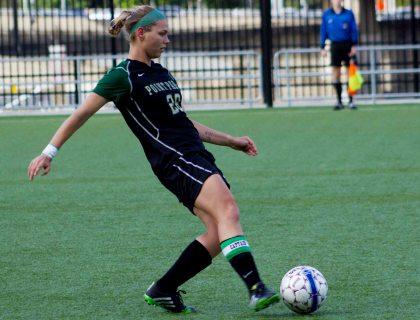 Junior defender Angie Abel is one of four all-conference honorees for Point Park women's soccer. Photo by Evan Schall.
PITTSBURGH -- The Point Park University women's soccer team had four players earn all-conference honors with the release of the Kentucky Intercollegiate Athletic Conference Women's Soccer All-Conference teams this week.
The Pioneers (7-12-2, 4-1-1 KIAC) had three players make the KIAC All-Conference First Team with two members of their outstanding defense, junior Angie Abel and freshman Paige Manning, making it along with senior midfielder/forward Emily Levier. Sophomore forward Leeza Tokarski was named to the KIAC All-Conference Second Team.
Point Park, the KIAC Tournament runner-up and the third-place team in the regular season, tied for the conference-high with three players on the first team. KIAC Tournament champion Asbury (Ky.) (11-8, 6-0 KIAC) had two players on the first team. All four honorees for Point Park earned all-conference honors for the first times in their careers.
The 14-member KIAC All-Conference First Team had five defenders, four midfielders, four forwards and one goalkeeper. Meredith Ury of Asbury (Ky.) was the KIAC Player of the Year, and Asbury's Brooke Lincoln was voted the KIAC Coach of the Year.
Abel, a junior defender from Baltimore, Md., is a three-year starter at center defense, and she is a team captain. She was in the running for KIAC Defensive Player of the Year but fell one vote short to Carlow's Nicollette Blake as the defender with the most votes. Abel started 20 games for Point Park and was a big reason why the Pioneers gave up only three goals in their six KIAC games.
Manning, a freshman defender from Newmarket, Ontario, was another key piece of the Point Park defense. She operated at right back while playing in all 21 games with 20 starts. She totaled one goal, one assist and three points on the year.
Levier, a senior midfielder/forward from Gibsonia, Pa., and Pine-Richland High School, capped off her time at Point Park with a career year. She played in all 21 games with 16 starts and career highs of four goals, four assists and 12 points.
Three of Levier's her four goals and nine of her 12 points came in KIAC games with highlights being a game-winning goal in double overtime at Cincinnati Christian, and the Pioneers' only goal in a 1-1 (2OT) tie at Carlow. Levier also had the clinching penalty kick in the KIAC Tournament semifinals versus Carlow to send the Pioneers into the finals.
Tokarski, a sophomore forward from Pittsburgh, Pa., and Schenley High School, was the Pioneers' lead with seven goals and 17 points, and she also tied for second on the team with three assists. Tokarski started 18 of 20 games. Tokarski had 17 goals and 39 points in her two-year career.