Point Park women's soccer schedule announced including 18 games
July 26, 2013 at 2:00 p.m. ET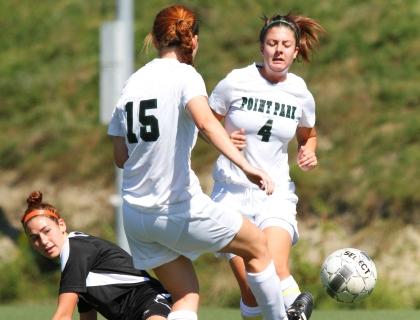 The Pioneers open the season Aug. 31 at Rio Grande. 2012 Photo by Evan Skowvron.
PITTSBURGH -- The Point Park University women's soccer schedule has been announced for the 2013 season, and the Pioneers open play Aug. 31 at Rio Grande. There are 18 games on the schedule for the Pioneers, who are coming off their best season ever at 10-8-1 overall and 4-1-1 KIAC with a trip to the KIAC Tournament finals.
It'll be the second year for the Pioneers under head coach Maggie Kuhn, who is just the third head coach in the history of the program. Point Park women's soccer is in its eighth year of existence since becoming a varsity sport at the school in 2005.
Of the 18 games on Point Park's schedule 10 are at home, eight are on the road and six are in Kentucky Intercollegiate Athletic Conference play. Of those KIAC games, four are at home, two are on the road and only one is in the state of Kentucky.
"Our schedule this fall is going to be a great test for our team," said coach Kuhn. "Even though we tasted some success last fall, we really didn't win anything. Our 2013 schedule is going to be pretty demanding. The majority of our games are against quality NCAA Division II or NAIA schools and very talented NCAA Division III teams.  I am hopeful that our tough out-of-conference schedule will prepare us for our conference games. 
"Obviously, our goal is to earn that automatic bid to the NAIA national tournament by winning the KIAC Tournament. Much like last year, we are going to have to show up and be at our best in every game to be competitive in the KIAC. It will be a challenge, but it's one that I believe our team has earned and is ready for"
Point Park's schedule has nine NAIA opponents with six coming in KIAC play and three being non-conference -- at Rio Grande (Aug. 31), Eastern Oregon (Sept. 11) and at Georgetown (Ky.). (Oct. 27).
Point Park will play four NCAA Division II schools, four NCAA Division III schools and one USCAA opponent (Maine Fort Kent).
The NCAA Division II opponents, which include a couple early season tests, are West Liberty (Sept. 5), Ohio Valley (Sept. 7), at Ursuline (Oct. 1) and Seton Hill (Oct. 5). NCAA Division III opponents are at Muskingum (Sept. 3), at Geneva (Sept. 18), La Roche (Sept. 24) and at Westminster (Sept. 26). 
After playing its first two games on the road at Rio Grande and at Muskingum, Point Park will play five home games in a row. The final home games in that stretch are the KIAC openers versus Berea (Ky.) and Midway (Ky.) Sept. 13-14.
Point Park visits Cincinnati Christian for its first KIAC road game Oct. 12 before hosting KIAC opponents Brescia (Ky.) Oct. 19 and Carlow Oct. 22. The Pioneers' final KIAC game is at Asbury (Ky.) Oct. 26. That is the final weekend of the regular season, and it'll be the Pioneers' only trip to Kentucky on the year.
The Pioneers have 8 of 11 starters and 16 of 20 letter winners returning from last year. Point Park's 10 wins last year were a program record, and after winning their first playoff game ever, the Pioneers lost to Carlow in the KIAC Tournament finals, 1-0.
Point Park reports to campus Aug. 12 for preseason training. The Pioneers have two exhibition games scheduled for Aug. 22 versus Mt. Vernon Nazarene and Aug. 26 at Washington & Jefferson.
Follow the Pioneers on Twitter @PointParkSports and Facebook.com/PointParkAthletics