Point Park University women's soccer looks to make strides in 2011
Aug. 24, 2011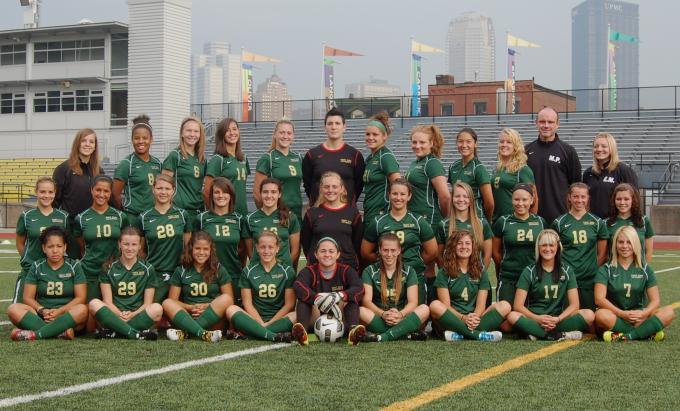 DOWNLOAD QUICK FACTS , VIEW ROSTER , VIEW SCHEDULE
PITTSBURGH -- The Point Park University women's soccer team enters the 2011 season with a young roster that will look to make strides in head coach Mark Platts' second year in charge of the Pioneers.
The Pioneers do have a few veteran leaders, but they are mostly young with 21 of their 29 players as freshmen or sophomores. Several players gained valuable playing experience and learned under fire in last season's 4-13 campaign.
But with over a year of coach Platts' system in place, the Pioneers are much further along then where they were in August 2010. Platts was hired shortly before last season in the summer of 2010. Point Park struggled in the early part of their schedule but jelled late in the year. The Pioneers went 2-2 over the final 10 days of the season and were in just about every game down the stretch.
Point Park's defense was good for the most part last year, but the Pioneers did not have the offensive fire power to keep pace. Point Park lost five games by a single goal, and gave up less than two goals in 10 games. But the Pioneers averaged just one goal per game on the year.
This year, Point Park's defense figures to be where it was last year, and with the continued development of returners and a few playmakers incoming, the Pioneers should be better equipped to cash in on offense.
Among the top returners, the Pioneers have senior forward Lauren Evans as the top returning scorer. She had four goals and team-high three assists in 2010 for a total of 11 points. Sophomore forward Kileigh Williams was used off the bench last year and ended up with 10 points.
Junior Maeve Gallagher is back for her third year starting at central defense, and sophomore Alyssa Larkin is a returning starter in the central mid.
In goal, the Pioneers have a couple of viable options with senior Liz Velez and sophomore Anna Shaw. Velez, who stands 5-foot-3, is a vocal leader who has the most experience. Velez and Shaw had been splitting time last year before Velez missed the second half of the year with an injury. Shaw is taller at 6-0 and started 13 games as a freshman last year.
Point Park completed its two-game preseason schedule with a record of 0-0-2. The Pioneers tied at NCAA Division II Pitt-Johnstown, 1-1, Aug. 20. Megan Kuntz got the equalizer off a pass from fellow newcomer Kristina Stammer. Point Park then played a scoreless tie at St. Vincent Aug. 23.
Point Park opens its season with a two-game trip to the West Coast. The Pioneers start the year Thursday, Aug. 25 at San Diego Christian (7 p.m. EST), and they face NAIA #15 Cal-State San Marcos on Saturday, Aug. 27 (3 p.m. EST).