Point Park falls 2-1 at Muskingum in non-conference women's soccer game
Sept. 3, 2013 at 10:00 p.m. ET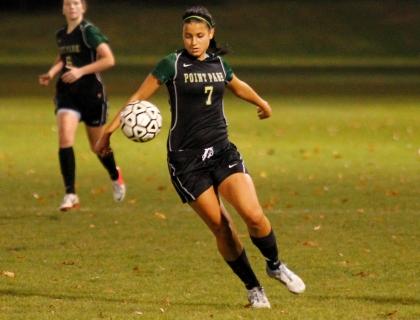 Leeza Tokarski scored for Point Park in the 2-1 loss at Muskingum. Photo by Evan Skowvron.
NEW CONCORD, Ohio -- Muskingum University's Summer Setliff scored two goals to make up for a big descrepancy in shots and lift her team to a 2-1 victory over visiting Point Park University in a non-conference women's soccer game on Tuesday.
Setliff gave Muskingum (3-0) a 1-0 lead with an impressive goal in the 15th minute when she put one in the top corner from 30 yards out. After Point Park (0-2) evened the score a 1-1 with a goal by sophomore Leeza Tokarski in the 65th minute, Setliff tallied the game-winner off a one-timer from the top of the 18 in the 76th minute.
Point Park, which opened its season with a narrow, 1-0 loss at Rio Grande on Saturday, enjoyed a 25-13 advantage in shots. The Pioneers peppered 17 shots in the second half and had 11 shots on goal for the night. Muskingum, an NCAA Division III program, had six shots on goal with Setliff putting two of them in.
Point Park split its goalkeeping duties between Mackenzie Pinto in the first half and Erica Roney in the second half. They each gave up a goal in 45 minutes, and each made two saves.
Muskingum goalkeeper Elise Zimmerman had a strong game with 10 saves in 90 minutes while facing 25 shots. Point Park had some good chances in each half, but Zimmerman kept the Pioneers off the board except for Tokarski's unassisted chip shot.
Point Park will now shift its focus to its home opener at its new venue of Highmark Stadium. The Pioneers host West Liberty at 7 p.m. on Thursday. Admission is Free.
Follow the Pioneers on Twitter @PointParkSports and Facebook.com/PointParkAthletics