Point Park rallies past West Liberty for 2-1 win in first game at Highmark Stadium
Sept. 5, 2013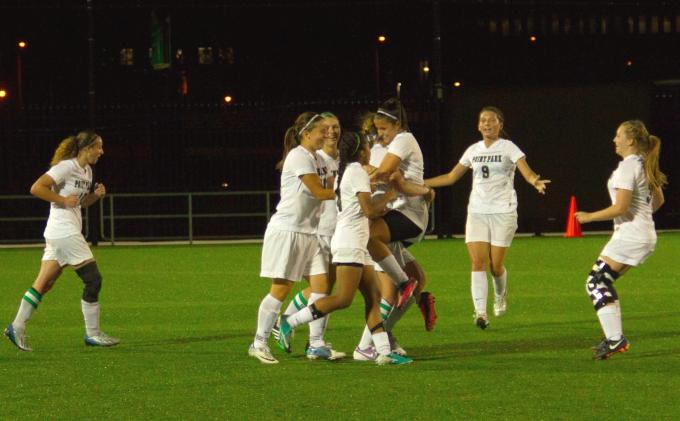 Point Park teammates celebrate with Leeza Tokarski, who put in the tying goal, the first for the Pioneers at Highmark Stadium. Photo by Evan Schall.
By: Zachary Weiss, Point Park Athletic Communications Student Assistant
PITTSBURGH -- In the first ever Point Park University soccer game at Highmark Stadium, a late goal from Kelsey Wilkins gave the Pioneers a 2-1 victory over non-conference opponent West Liberty in a women's game Thursday night.
After a scoreless first half, West Liberty (0-1, 0-0 MEC) scored in the 62nd minute after Sara Evans powered a shot past Pioneers goaltender Erica Roney.
Following the goal, Point Park (1-2, 0-0 KIAC) responded 12 minutes later when Leeza Tokarski scored her second goal of the season to tie the game in the 74th minute. The game was won in the 87th minute when Wilkins' shot passed the outstretched arms of West Liberty goalkeeper Rachel Coles.
Megan Kuntz assisted on the game-winning goal as did Tokarski. Tokarski and Kuntz worked the ball from the right side of the field to the left side, where Wilkins found herself alone for a one on one with the keeper. Defender Paige Manning worked the ball up field and assisted Tokarski for the tying goal.
Point Park played goalkeepers MacKenzie Pinto and Erica Roney each for 45 minutes matching what they did in their last game against Muskingam. Pinto played the first half Thursday with four saves and no goals against. Roney had six saves and gave up the goal.
The Pioneers return home Saturday to host Ohio Valley at 1 p.m. Admission is free at Highmark Stadium.
Follow the Pioneers on Twitter @PointParkSports and Facebook.com/PointParkAthletics