Geneva College keeps Point Park at bay in 4-2, non-conference victory
Sept. 18, 2013 at 10:00 p.m. ET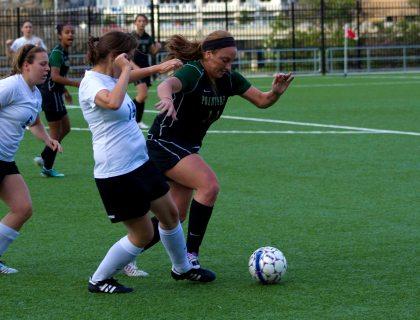 Senior Emily Levier scored for Point Park to cut it to 2-1 at Geneva. Photo by Evan Schall.
BEAVER FALLS, Pa. -- Geneva College got an early lead and successfully kept Point Park University at bay in a 4-2, non-conference win over the visiting Pioneers on Wednesday night.
Geneva (3-2), an NCAA Division III school, built a 2-0 lead the first 10 minutes on goals by Rhetta King (6') and Caroline Wright (10').
Point Park (3-5, 2-0 KIAC) was able to get within a goal on Emily Levier's tally at the 22:06 mark. But Geneva regained the multi-goal lead just 37 seconds later on a goal by Kimberly Orihel.
With the 3-1 lead at halftime, Geneva struck again on Wright's second goal of the game just 3:54 into the second stanza as the Golden Tornadoes opened up a 4-1 lead.
Point Park was able to get back to within two goals on Kayla Bentham's unassisted goal in the 85th minute, but that was all the Pioneers could muster.
Geneva held a slim advantage in shots, 19-18. The first half favored Geneva with a 14-6 edge in shots whereas the second half tilted to Point Park, 12-5. Lauren Finkbeiner made nine saves in 90 minutes at the Point Park goalkeeper.
Point Park will take nearly a week off of games after a busy couple of weeks with eight games already in the books. Point Park next plays at home versus La Roche on Sept. 24 at 5 p.m. at Highmark Stadium.
After Wednesday's loss, Point Park is now 0-3 on the road. Point Park is 3-2 overall and 2-0 KIAC at home.
Follow the Pioneers on Twitter @PointParkSports and Facebook.com/PointParkAthletics