Point Park loses at home to Seton Hill, 1-0, in non-conference game
Oct. 5, 2013 at 11:15 p.m. ET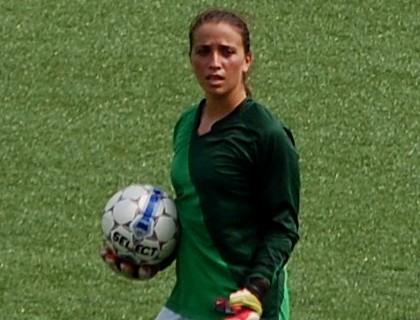 Mackenzie Pinto made 11 saves in the 1-0 loss to Seton Hill on Saturday at Highmark Stadium.
PITTSBURGH -- The Point Park University women's soccer team lost at home to Seton Hill, 1-0, in a non-conference game at Highmark Stadium on Saturday.
Seton Hill (3-7, 2-7 PSAC-W) took advantage of a turnover by Point Park (4-8, 2-0 KIAC) for the game's only goal in the 8th minute. Stephanie Mizla hammered home the goal in a one-on-one situation with Point Park goalkeeper Mackenzie Pinto.
Seton Hill held a 20-3 advantage in shots. Pinto made 11 saves, and the Point Park defense faced 10 shots each half. The Pioneers withstood a fairly steady attack by the Griffins and did well to keep them off the board but for the one mistake early.
But Point Park's offensive drought continued, and it was shut out for the third game in a row. The Pioneers are now off for the next week until playing a KIAC game at Cincinnati Christian Oct. 12 at 5 p.m.
Follow the Pioneers on Twitter @PointParkSports and Facebook.com/PointParkAthletics.