Point Park shuts out Asbury (Ky.), 4-0, in key KIAC women's soccer game
Oct. 19, 2012 at 9:30 p.m. ET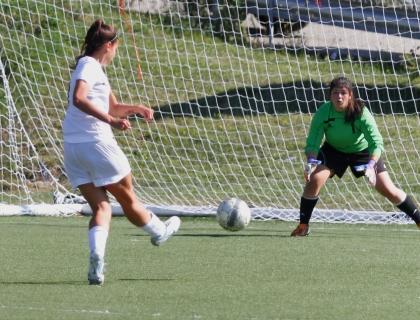 Leeza Tokarski, shown in a game earlier this year, had two goals vs. Asbury. Photo by Evan Skowvron.
SOUTH PARK, Pa. -- Needing to stop a three-game losing streak and facing a key conference game, Point Park University came up in a big way with Friday night's 4-0 victory over Asbury (Ky.) University in Kentucky Intercollegiate Athletic Conference play at Century United South Park Complex.
Leeza Tokarski scored two goals, and Kristina Stammer and Erin Gilmartin had one goal each for Point Park, which improved to 8-5 overall and a perfect 4-0 in the KIAC. The Point Park defense pitched a shutout with Mackenzie Pinto and Erica Roney each playing 45 minutes at goalkeeper. 
Point Park controlled play with a 20-5 advantage in shots over Asbury (2-9-1, 2-2 KIAC). Although Asbury's overall record does not show it, the Eagles are a solid team that has played a tough schedule.
It was a great start to a key weekend for the Pioneers and for KIAC women's soccer in general. The top four teams in the league standings -- Point Park, Carlow, Cincinnati Christian and Asbury -- are all in Pittsburgh this weekend. Also on the Friday-night schedule was Cincinnati Christian (3-1 KIAC) at Carlow (3-0 KIAC). The result of that game was not available at the time of this post.
Saturday's schedule includes Cincinnati Christian at Point Park, which could be a first-place showdown if CCU won at Carlow on Friday. For the time being, Point Park has at least a share of first place in the KIAC standings. Asbury, which is in fourth place, will visit Carlow on Saturday.
Point Park had a 1-0 lead as Tokarski scored in the 23rd minute to give the Pioneers the lead. Jillian Evilsizer assisted on the eventual game-winning goal. Point Park got a more comfortable lead of 2-0 when Stammer hammered home an unassisted goal in the 66th minute.
Point Park stretched out the final margin with two goals the last 12 minutes. The first came in the 79th minute from Gilmartin, who lobbed a shot from 30 yards out that landed behind the keeper and into the net.
Tokarski added her second goal of the game -- her eighth of the year -- on a penalty kick two minutes later. Tokarski and Stammer are now tied for second on the team with eight goals, one behind team leader Megan Kuntz.
After Saturday's big match versus CCU, the Pioneers host Westminster on Monday for their Senior Night at 6:30 p.m. Point Park concludes its KIAC schedule with a road game at Carlow on Wednesday night. Game time at Founders Field in Cheswick, Pa., is 7 p.m.
Follow the Pioneers on Twitter @PointParkSports and Facebook.com/PointParkAthletics