Pioneers tie Cincinnati Christian, 1-1, lose ground in KIAC standings
Oct. 20, 2012 at 11:59 p.m. ET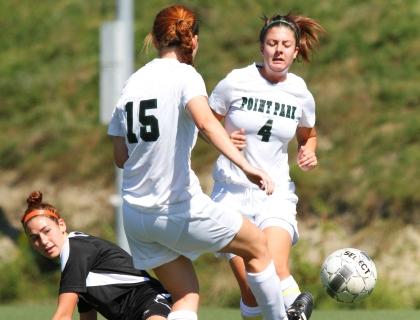 Defensive players Jorden Strehle (15) and Destiny James battle in a game earlier this year. Photo by Evan Skowvron.
PITTSBURGH -- The Point Park University women's soccer team registered a 1-1 tie in double overtime with Cincinnati Christian in KIAC action on Saturday at Century United South Park Complex and lost ground to first-place Carlow in the conference standings.
Point Park (8-5-1, 4-0-1 KIAC) drew even at 1-1 on Kristina Stammer's penalty kick in the 50th minute. That goal erased the 1-0 deficit that the Pioneers were facing due to a defensive miscue that led to an own goal for Cincinnati Christian (9-6-1, 3-2-1) in the 15th minute.
With the game tied, neither team could get the go-ahead goal, although Point Park had a lot more opportunities than CCU. Point Park held a 25-9 advantage in shots, which included an 18-3 edge in the second half and overtimes.
The tie kept the Pioneers from keeping pace with Carlow (9-1-1, 5-0 KIAC), which beat Asbury, 1-0, on Saturday to stay unbeaten and in first place by a half a game over second-place Point Park. CCU is in third place followed by Asbury (2-3 KIAC).
Point Park's next game is its Senior Night on Monday vs. Westminster (6:30 p.m.). But the biggest game of the year will be Wednesday at Carlow, a game in which the Pioneers can take over first place and the top seed in the KIAC Tournament. Game time at Founders Field is 7 p.m.
Point Park had two goalkeepers see action on Satuday. Starter Mackenzie Pinto made three saves the first half, and sub Erica Roney had two saves in the second half and overtimes. CCU goalkeeper Rebecca Duff had 17 saves although many of them were on Point Park shots that came from well outside the penalty area.
Follow the Pioneers on Twitter @PointParkSports and Facebook.com/PointParkAthletics