Point Park ties Carlow in KIAC rivalry game at Highmark Stadium, 1-1 (2OT)
Oct. 22, 2013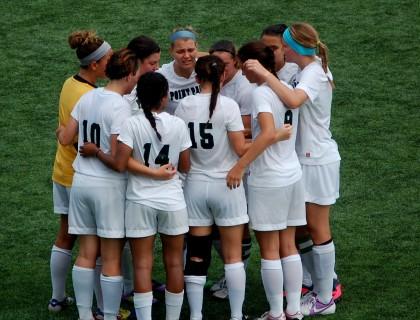 PITTSBURGH -- The Point Park University women's soccer team drew a 1-1 tie with Carlow University in a KIAC home game Tuesday night at Highmark Stadium. The game ended after two overtimes and 110 minutes.
Senior Emily Levier scored the goal for Point Park (6-9-1, 4-0-1 KIAC), which stayed a game ahead of Carlow (8-5-1, 3-1-1 KIAC) in the KIAC standings with each team having one more KIAC game left to play.
Levier's fourth goal of the year came off a turnover in the 60th minute and tied the game at 1-1. Leiver, from Gibsonia, Pa., and Pine-Richland High School, dribbled in across the 18 and beat Carlow goalkeeper Ashlyn Fratto low and to the right.
Carlow had the 1-0 halftime lead when Alyssa Tlumac put in a rebound in the 33rd minute past diving Point Park keeper Mackenzie Pinto. There was not much that Pinto could do after she made the initial save off a free kick from Brianna Trent. But the rebound went off the crossbar and right to Tlumac on the doorstep.
Neither team scored the final 50 minutes of the game, which included 20 minutes of overtimes. Carlow ended up with a 19-10 advantage in shots. Pinto had a big game in net for Point Park with 11 saves.
Point Park is now in second place in the KIAC one half game behind Asbury (Ky.) (3-0 KIAC) for the conference lead. Point Park's final KIAC game is at Asbury (Ky.) on Saturday at 1 p.m. The game will be broadcast live on iHigh.com via the Asbury Broadcast Channel. WATCH LIVE
Point Park is still in control of its own fate in the KIAC race as a victory at Asbury would secure the KIAC regular season title and the No. 1 seed in the KIAC Tournament for the Pioneers. A tie at Asbury would give the Pioneers at least one of the top two seeds in the playoffs, which comes with a bye into the semifinals.