Point Park U. women's soccer inks recruits Tokarski and Evilsizer
Dec. 13, 2011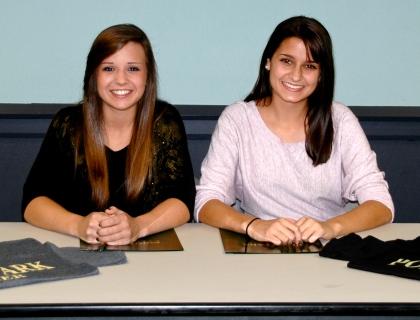 Point Park U. women's soccer recruits Jill Evilsizer (left) and Leeza Marie Tokarski (right).
PITTSBURGH -- Point Park University women's soccer has signed two more recruits for the 2012 season -- midfielder/forward Leeza Marie Tokarski and midfielder/defender Jill Evilsizer -- announced Pioneers head coach Mark Platts.
Tokarski, from Pittsburgh, Pa., and the Pittsburgh Obama Academy and Evilsizer, from Medina, Ohio, and Medina High School, will join the Pioneers as freshmen next year.
Tokarski is a 5-8 midfielder/forward who totaled 105 goals and 62 assists as a four-year starter at Obama Academy. She led the City League in scoring the last three years and in assists the last four. She is a four-time All-City League player and a three-time Pittsburgh Post-Gazette East All-Star.
An honor roll student and a National Honor Society member, she plans to major in advertising at Point Park. Her sister Alexa finished up her career with the Pioneers in 2009.
"Leeza Marie has shown to be one of the best high school players in the Pittsburgh area," said Platts, who just completed his second year at Point Park. "She can play both midfield and forward and has shown that she has an eye for the goal. She will provide me with many options in attack and her long ball ability on set plays. I'm looking forward to working with her."
Evilsizer is a 5-4 midfielder/defender who helped Medina High School to a district championship in 2010. Her playing experience includes 10 years of club ball with stops with the Cleveland FC, Pennine, Crew Challengers Juniors and Current and the Ohio Olympic Development Program.
A merrtt role student at Medina, she will major in biology with plans for pre-med.
"Jill is a very versatile player able to offer experience in both midfield and defense," said Platts. "She fits in really well with the team, and her highly competitive high school and club background will help her make the transition to college. She is a composed player who I have really enjoyed watching over the past two years, and I think she will have a great four-year career at Point Park."