Point Park U. women's soccer signs Molly Flinn and Tori Fedora for 2012 class
Dec. 3, 2011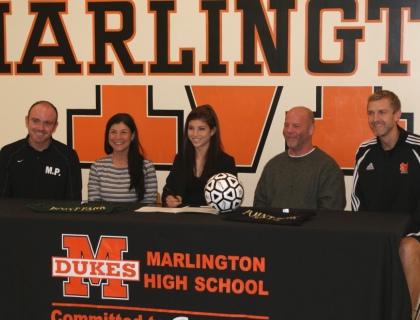 Molly Flinn from Alliance, Ohio, signs with Point Park and head coach Mark Platts (far left). Molly is flanked by her parents Rebecca and Michael Flinn and Marlington coach Justin Woods (far right).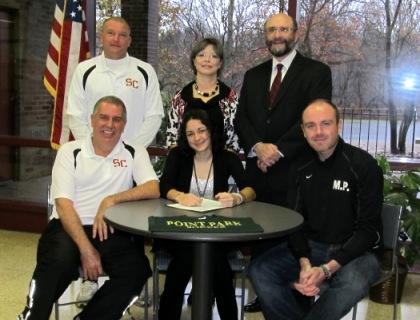 Tori Fedora of East McKeesport, Pa., signs with Point Park and head coach Mark Platts (seated, right). Pictured are her parents Timothy and Leticia Fedora and the Serra Catholic coaches (at left).
PITTSBURGH -- Point Park University women's soccer head coach Mark Platts has announced the signing of his first two recruits for the 2012 class -- center midfielder Molly Flinn of Alliance, Ohio, and forward Tori Fedora of East McKeesport, Pa.
Coach Platts, a native of England, has been the Point Park head coach the last two years. He will welcome Flinn and Fedora to the Pioneers as freshman in the fall of 2012.
Flinn is a 5-2 forward from Marlington (OH) High School who was named the Stark County Player of the Year as a senior in 2011. A three-time All-Northeast Buckeye Conference and All-Stark County selection, she was also named to the Greater Akron All-District First Team as a senior. The four-year letter winner was the Northeast Conference Player of the Year as a junior.
"Molly is a very technical center midfielder who has had great high school succcess," said Platts. "She will add great depth to the midfield and will impact the team a lot. I have watched her for three years in high school and she has shown great development as a player over those years. I am very happy that she has decided to continue her soccer and academic career with the Pioneers."
Platts, who came to Point Park after serving as the top women's assistant at Walsh Univeristy in Canton, Ohio, had also been the head boys' soccer coach at Flinn's alma mater, Marlington High School, during that same time.
Flinn, the daugther of Michael and Rebecca Flinn, is an honor roll student who will major in Business Management at Point Park.
Fedora is a 5-4 foward from Serra Catholic High School, which is just south of Point Park's Downtown Pittsburgh campus. The four-year letter winner and three-year captain was an All-WPIAL selection the last two years. Fedora led the Eagles to consecutive WPIAL Section 2-A titles as a three-time all-section player. In club soccer, she was a captain for Foothills for five years.
"Tori is a very fast and gifted forward," said coach Platts. "She is comfortable on both her left and right foot and has a great work ethic. She was a prolific scorer for her club team and will provide a great deal of attacking threat for Point Park. Her addition to the team brings another goal-scoring threat and a versatile player."
Fedora, the daugther of Timothy and Leticia Fedora, is a National Honor Society student who is undecided on a major at Point Park. 
What was a very young Point Park team will return 10 starters who were freshmen or sophomores during the 2011 season.