Point Park women top Salem International for fourth victory in a row
Sept. 28, 2011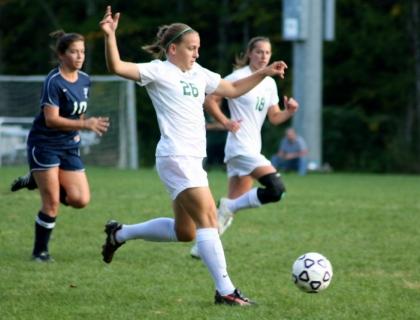 Kristina Stammer scored a goal for Point Park on Wednesday. Photo by Lyddia Ankrom.
CHESWICK, Pa. -- The Point Park University women's soccer team jumped out to an early lead on its way to a 3-1, non-conference victory over Salem International Wednesday at Founders Field, and it was the fourth win in a row for the Pioneers.
Point Park (4-5) led the game, 2-0, after the 14th minute and maintained at least a two-goal lead the rest of the way. The win allowed Point Park to match its win total from last year when it was 4-13.
The Pioneers will now take their 3-1 conference record into Friday's AMC matchup with NAIA #13 Houghton College (7-1). The game will be played at Cupples Stadium, located at the corner of 9th and Carson Streets in the South Side.
Kristina Stammer gave Point Park a 1-0 lead with her fourth goal of the year, which came just 6:46 into the game. Stammer, a sophomore midfielder who transferred from Sierra (CA) JC, now has a team-high 11 points.
Freshman Kari Kowalski, from Harrison, Ohio, scored her first career goal in the 14th minute, and Point Park took its 2-0 lead into the halftime lockerroom.
Point Park made it 3-0 when Casey Baldwin scored in the 60th minute. Baldwin had taken a cross from Karly Shorts, who was the only starter in the game at the time other than goalkeeper Anna Shaw.
Salem International cut the deficit to 3-1 when Michele Mendiola scored on a penalty kick with 34:16 to go. With the lead down to two goals, the Point Park starters came back in to finish the game off the last 20 minutes or so.
Salem International (1-5) played at Point Park for the second year in a row. Point Park beat the Tigers, 5-0, in the 2010 matchup.