Point Park women's soccer falls behind early in 3-1 loss at Seton Hill
Oct. 10, 2012 at 10:30 p.m. ET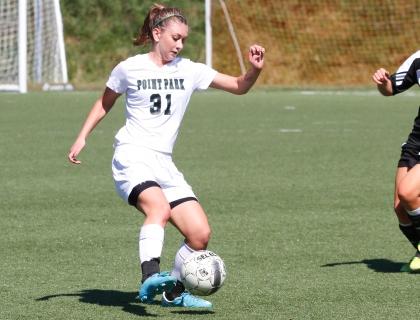 Erin Gilmartin had an assist in Wednesday's loss at Seton Hill. Photo by Evan Skowvron.
GREENSBURG, Pa. -- Point Park University fell behind early in its 3-1 loss at Seton Hill University in a non-conference women's soccer game Wednesday.
Seton Hill (7-5-1) scored two goals the first seven minutes and was ahead 3-0 before Point Park (7-4, 3-0 KIAC) scored its only goal in the 85th minute.
It was the second loss in a row for Point Park, both of which have come versus NCAA Division II competition. The Pioneers lost at Ohio Valley, 1-0, on Monday.
Seton Hill's Heather Apodaca scored just 2:20 into the game off a corner kick. Katelyn Wiater scored four minutes later, the Griffins were still up 2-0 at the half. Seton Hill padded its lead to 3-0 with Paula Florez's goal in the 74th minute.
Point Park got on the board with 5:15 remaining on a goal by Leeza Tokarski that was assisted by Erin Gilmartin.
Seton Hill out-shot Point Park, 17-6. Point Park had only one shot come from its starters. Goalkeeper Erica Roney had 10 saves for the Pioneers.
Point Park is off for the next week until playing host to Pitt-Johnstown on Oct. 17 (5 p.m.).
Follow us on Twitter @PointParkSports and Facebook.com/PointParkAthletics