Stammer, Kuntz, James make KIAC Women's Soccer All-Conference Team
Nov. 28, 2012 at 10:15 p.m. ET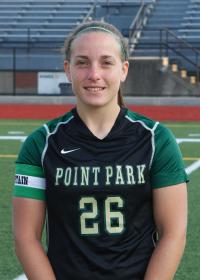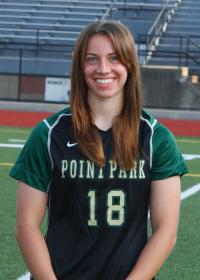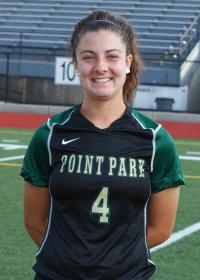 KIAC Women's Soccer All-Conference Team members (L to R): Kristina Stammer, Megan Kuntz, Destiny James.
KIAC ALL-CONFERENCE TEAM    KIAC STATISTICS
PITTSBURGH -- Point Park University women's soccer had a player from its defense, midfield and attack earn a spot on the Kentucky Intercollegiate Athletic Conference Women's Soccer All-Conference Team, as announced by the league last week.
The Pioneers (10-8-1, 4-1-1 KIAC) had a total of three players named to the 14-member all-conference team. Junior defender Destiny James (Cumberland, Md.), junior midfielder Kristina Stammer (Daytona Beach, Fla.) and sophomore forward Megan Kuntz (Newville, Pa.) were selected.
Stammer is a center midfielder for the Pioneers. She led Point Park in goals and points for the second straight year with 12 goals and 30 points. She also had a team-high six assists this year. Stammer was All-AMC second team in 2011, her first year at Point Park after transferring from Sierra (Calif.) College. Stammer ranked
Stammer was third in the KIAC in points per game (1.67), fourth in goals per game (0.67) and third in assists per game (0.333).
Kuntz was the top forward for the Pioneers although an injury late in the year hampered her down the last stretch of the season. She finished the season with nine goals, five assists and 23 points. She had eight goals through the first eight games. Kuntz ended up ranking fifth in the KIAC in points per game (1.44) and sixth in goals per game (0.56).
James started every game at center defender. She was a key cog in a Point Park defense that was second in the KIAC in goals allowed per game at 1.11 and gave up only 21 goals all year. Like Kuntz, she was an All-AMC honorable mention pick last year.
Point Park was the runner-up in the KIAC Tournament and also the regular-season standings. The Pioneers set a school record for most wins and won a postseason game for the first time, a 2-1 win over Cincinnati Christian in the KIAC Tournament semifinals. Point Park will have 9 of 11 starters returning next year for head coach Maggie Kuhn, who will be in her second year.
Follow the Pioneers on Twitter @PointParkSports and Facebook.com/PointParkAthletics