Tokarski & James named KIAC Offensive & Defensive Players of the Week
Sept. 11, 2012 at 8:45 p.m. ET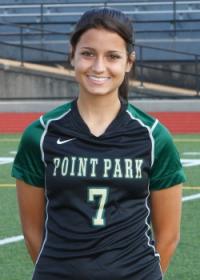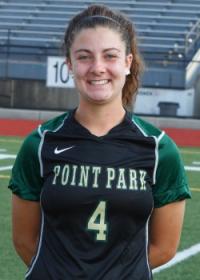 Leeza Tokarski (7) and Destiny James (4) are the KIAC Women's Soccer Players of the Week.
PITTSBURGH -- Point Park University women's soccer players Leeza Tokarski and Destiny James have been named the Kentucky Intercollegiate Athletic Conference Women's Soccer Offensive & Defensive Players of the Week, respectively, for the games played the week of Sept. 3-9.
Tokarski is a freshman forward from Pittsburgh, Pa., and Schenley High School. James is a junior center defender from Cumberland, Md., and Fort Hill High School. The duo helped Point Park to a 3-0 week overall and a 1-0 week in KIAC play. Point Park is undefeated at 4-0 and has swept the KIAC Players of the Week the first two weeks of the season.
Tokarski scored four goals in the three games last week and also notched three game-winning goals. She put in the eventual game-winner in the 2-1 win over Geneva, scored the opening goal in the 3-0 win over Muskingum and scored two goals late in the first half to give the Pioneers a 3-1 halftime lead in their 8-1 win at Berea.
James plays center defense for a Point Park defensive unit that has been stellar this year. The Point Park defensive has given up just two goals in the four games on the year. In the three games last week, James and the defense allowed only 13 shots from the opponents. James also supplied some offense as she scored versus Muskingum.
Point Park is off until hosting La Roche on Sunday, Sept. 16. Game time at Century United South Park Complex is 2 p.m.
Follow us on Twitter @PointParkSports and Facebook.com/PointParkAthletics