Kuntz, Pinto sweep first KIAC Women's Soccer Players of the Week honors
Sept. 4, 2012 at 8:15 p.m. ET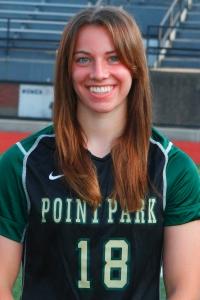 Pictured: Megan Kunntz (left) and Mackenzie Pinto (right) are the KIAC Players of the Week.Photos by Evan Skowvron.
PITTSBURGH -- The Point Park University women's soccer team swept the individual weekly awards in their first week in the Kentucky Intercollegiate Athletic Conference. Sophomore forward Megan Kuntz (Newville, Pa.) and freshman goalkeeper Mackenzie Pinto (Harleysville, Pa.) were named the KIAC Women's Soccer Offensive & Defensive Players of the Week, respectively, for play from Aug. 27-Sept. 2.
Kuntz, a 5-3 forward from Newville, Pa., and Big Spring High School, totaled two goals, one assist and five points in Point Park's season-opening, 5-0 victory at WVU Tech on Sunday. She was named All-AMC honorable mention with five goals, four assists and 14 points in 18 starts as a freshman last year.
Pinto, a 5-5 goalkeeper from Harleysville, Pa., and Lansdale Catholic HS, recorded a shutout in her first-career start in goal. Pinto made two saves, and was the beneficiary of a strong defensive effort from Point Park that allowed only four shot attempts. She was with the team last year but sat out the year.
Point Park (1-0) has its next game as its home opener Wed., Sept. 5 vs. Geneva (1-1). Game time is 6 p.m. at Century United South Park Complex.
Follow us on Twitter @PointParkSports and Facebook.com/PointParkAthletics