Shorthanded Point Park team drops non-conference home game to Pitt-Johnstown
Oct. 17, 2012 at 10:40 p.m. ET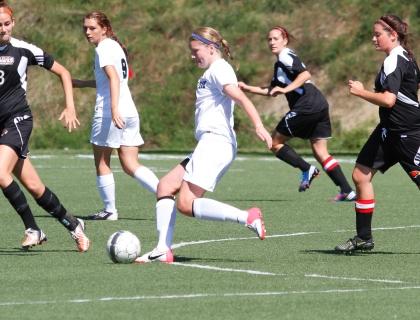 Kari Kowalski scored her third goal of the year in Wednesday's loss to UPJ. Photo by Evan Skowvron.
SOUTH PARK, Pa. -- Playing without three injured starters, including two starting defenders, Point Park University gave up a season-high four goals in a 4-2 home loss to Pitt-Johnstown in a non-conference women's soccer game Wednesday night at Century United South Park Complex.
Point Park (7-5, 3-0 KIAC) lost for the third time in a row after falling behind Pitt-Johnstown (11-4, 5-3 WVIAC), 2-0, at the half.
The Pioneers made it a tight game early in the second half when Megan Kuntz's ninth goal of the season came just 2:16 after the second-half kickoff. Kuntz pounded in the score after Kristina Stammer's cross bounced around some defenders in front of the net.
The score remained 2-1 for the next 35 minutes, and some air went out of Point Park's hopes when Pitt-Johnstown's Maura Koshute made it 3-1 with a goal in the 82nd minute. But as it turned out, that goal was just the first of three goals that were scored in the final nine minutes.
Trailing, 3-1, Point Park got the deficit to a single goal once again when Kari Kowalski knocked in Jillian Evilsizer's corner kick with a beautiful diving header at the 83:32 mark. That goal game just 1:45 after UPJ had taken the 3-1 lead.
Searching for the tying goal the last 6:28, Point Park instead gave up the fourth goal to Karley Staffen with 2:42 to play.
Point Park held an 18-12 advantage in shots. Both teams were very accurate with their shots as Point Park had 16 shots on goal and UPJ 10 shots on goal.
UPJ scored two goals in the first half and had the 2-0 halftime lead despite the fact that Point Park was on the attack for much of the first 45 minutes. The Mountain Cats had the ball in Point Park's end just a few times the opening half but came away with two goals.
The Point Park starting lineup was without injured players Maeve Gallagher (D), Amanda Mikolay (D) and Alyson Joyce (F). Gallagher has been on the injured list off and on throughout the season while Mikolay and Joyce each missed their first games.
Point Park's three-consecutive losses have all come in non-conference play, and it can now shift its focus to key KIAC games this weekend in hopes of building on its perfect, 3-0 conference record. The Pioneers host Asbury (Ky.) (2-1 KIAC) on Friday at 5 p.m. and welcome Cincinnati Christian (3-1 KIAC) on Saturday at 4 p.m.
And after hosting Westminster on Monday for their Senior Night at 6:30 p.m., the Pioneers have another key, KIAC game Wednesday at Carlow (3-0 KIAC).