Point Park comes up empty in 3-0 loss to Westminster on Senior Night
Oct. 22, 2012 at 11:59 p.m. ET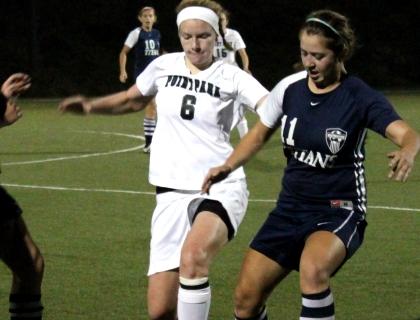 Point Park's Kari Kowalski works against Westminster's Margaret Nikituk last night. Photo by Olivia DiYanni.
SOUTH PARK, Pa. -- The Point Park University women's soccer team came up empty offensively in 3-0 loss to Westminster College on Senior Night on Monday at Century United Complex.
Westminster (6-7-4, 1-3-3 PAC) scored early and late in topping Point Park (8-6-1, 4-0-1 KIAC). Westminster got on the board early with Amanda Turi's goal in the 8th minute.
Point Park stayed within one goal until the final 10 minutes but could never draw even. Westminster stretched the final margin to three goals when Rebecca Bradnam found the back of the net in the 82nd and 88th minutes.
Shots were very even as Point Park had 16, and Westminster had 15. Point Park hit a couple of cross bars in one sequence early in the second half. The Pioneers also had a couple of shots sail right over the cross bar while looking for the goal to tie it at 1-1.
After playing four games in six days and coming out of that stretch with a 1-2-1 record overall and 1-0-1 in the KIAC, Point Park will shift its focus back to conference play. Point Park has a showdown with crosstown rival Carlow on Wednesday night at 7 p.m. at Founders Field. That game will decide the KIAC regular season champion as Carlow is in first place at 5-0-0, one half game ahead of Point Park with that being the final KIAC match for both teams.
Follow the Pioneers on Twitter @PointParkSports and Facebook.com/PointParkAthletics